---
Spanish Language Digital Media Technician at Joshua Tree National Park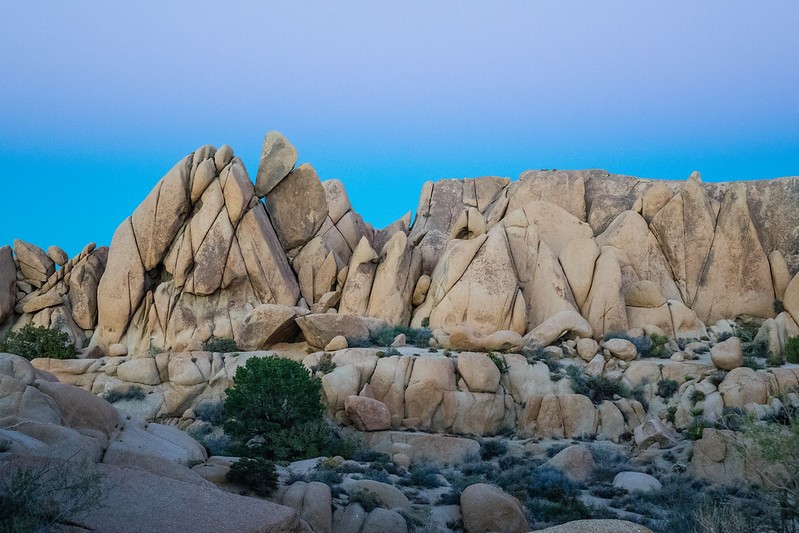 Joshua Tree National Park, photo credit: Dylan Doeblin
Additional Job Details
International Applicants Allowed?

No
Work Visa Sponsoring Available

No
Job Overview
Description:
Working cooperatively with the National Park Service's Joshua Tree National Park (JOTR), the Great Basin Institute is recruiting to hire a Digital Media Technician with the ability to create and deliver communication in both Spanish and English to join our Research Associate (RA) Program. The overarching objective of this position is to assist with public land management as it relates to recreation and visitor services.
Primary Responsibilities:
Writing and developing digital content for social media and website;
Collecting and analyzing data from online outreach to help understand trends and increase the reach to online, "virtual" park stewards;
Taking photos and videos using park camera equipment to support park media products;
Assist park communications team with printed and digital media such as park brochures, flyers, and web pages.
The Research Associate shall possess sufficient fluency in reading, writing, and speaking Spanish to create and respond to social media posts, translate content from English to Spanish, and create audio/video media for mass distribution. The Technician will serve as a liaison between other Park Divisions and the Branch of Media within the Park network and will be exposed to and support a variety of other interpretation and outreach activities. This position offers experience working with NPS professionals on public lands and will aid in preparation for a career in public lands recreation management through outreach strategies. Those seeking workforce development experiences for the purpose of public benefit through social media innovation should apply.
 Compensation:  
Wage: $21/hour
Medical, dental, and vision insurance available at no cost
Public Land Corps (PLC) Non-Competitive Hiring Eligibility: Upon successful completion, members between the ages of 17-30 (35, if you are a veteran) are eligible for non-competitive status for government hiring for two years.
Paid leave and holidays
 Timeline: 
26 week appointment beginning February 2022, or upon completion of a Department of Interior (DOI) background investigation
Potential for extension, pending positive performance review and available funding
Full time (40 hours/week); weekend, holiday, and occasional overtime work is required.
Location:
Joshua Tree National Park encompasses nearly 800,000 acres in southern California, 2- to 3-hour drive from Los Angeles, Phoenix and Las Vegas. Joshua Tree National Park is of special management concern, lying in the transition of the Mojave Desert and the Colorado Desert. Joshua Tree is a fantastic national park for climbers, hikers, and photographers. Aside from the outdoor recreation opportunities and natural wonders within the park, the nearby areas afford a diversity of outdoor activities ranging from hiking, mountain biking and rock hounding to fishing, boating and skiing/snowboarding. Joshua Tree National Park is within driving distance to Death Valley, Grand Canyon, the Mojave National Preserve, and Lake Mead.
Qualifications:
Sufficient fluency in reading, writing, and speaking Spanish to create and respond to social media posts, translate content from English to Spanish, and create audio/video media for mass distribution.
Coursework and/or demonstrable experience utilizing social media platforms and/or website development tools in an official capacity; developing and/or implementing outreach strategies or visitor services activities; or equivalent experience;
Knowledge of guiding principles of recreation, cultural or natural resource management, desirable;
Experience providing visitor services, environmental education, outreach and/or interpretation;
Experience collecting field data and/or following established data collection protocols;
Proven ability to communicate effectively, both written and orally, with a diverse audience including NPS and GBI staff, partner organizations, and the public;
Motivated, self-starter, detail oriented, and possess good organizational skills;
Ability to work independently or cooperatively as part of a team focused on accomplishing goals and mission of the NPS and GBI;
Possess a clean, valid, state-issued driver's license with ability to safely operate and maintain a 4WD vehicle on and off paved roads;
Ability to work in harsh and rapidly changing environments, in all types of weather conditions, traverse uneven terrain, and be in overall good physical condition; prior experience working in the desert southwest, or similar desert climates, desirable.
Successful applicant must complete a Department of Interior (DOI) Background Investigation (BI) or submit paperwork to NPS human resources indicating an active and fully adjudicated BI has already been completed prior to beginning position. If you already have a fully adjudicated BI, please let us know in your application.
As part of Great Basin Institute's Covid-19 Vaccination Policy, all employees are required to receive and provide proof of a full course of COVID-19 vaccine prior to the first day of employment, unless a medical or religious exemption is submitted and approved. All employees covered by this policy are required to be fully vaccinated as a term and condition of employment at Great Basin Institute. Employees are considered fully vaccinated two weeks after completing primary vaccination with a COVID-19 vaccine, with, if applicable, at least the minimum recommended interval between doses.
To review a copy of GBI's COVID-19 Vaccination Policy, please visit our Field Updates page for more details. If you have any questions or concerns regarding this policy, please do not hesitate to contact one of our staff members.
How to Apply:
Please follow the link to apply directly through our online portal: https://www.vscyberhosting.com/greatbasin/careers.aspx?rf=ADVENTUREJOBS&req=2021-RAP-117
We conform to all the laws, statutes, and regulations concerning equal employment opportunities and affirmative action. We strongly encourage women, minorities, individuals with disabilities and veterans to apply to all of our job openings. We are an equal opportunity employer and all qualified applicants will receive consideration for employment without regard to race, color, religion, gender, sexual orientation, gender identity, or national origin, age, disability status, Genetic Information & Testing, Family & Medical Leave, protected veteran status, or any other characteristic protected by law. We prohibit Retaliation against individuals who bring forth any complaint, orally or in writing, to the employer or the government, or against any individuals who assist or participate in the investigation of any complaint or otherwise oppose discrimination.