---
Trail Stewardship Leader
featured
CMC Trail Stewardship Leaders work in small teams to provide support for public land management agencies, non-profits and volunteers on a wide variety of trail and conservation projects throughout Colorado. Program participants will engage in an extensive training period that focuses on enhancing technical trail and project skills, field-based knowledge as well as conservation leadership strategies.
Pay: $600-680/week (DOE).
Program Duration: *Seasonal*, mid-May through late-October 2021.
Project Staging Area: South Central Colorado
Project Locations: Field-based, throughout Colorado.
Hours: 40+/week (Field-based)
Work environment: Extensive outdoor, field-based work with exposure to remote work and camp locations, inclement weather and extensive physical work duties. Will be camping every week.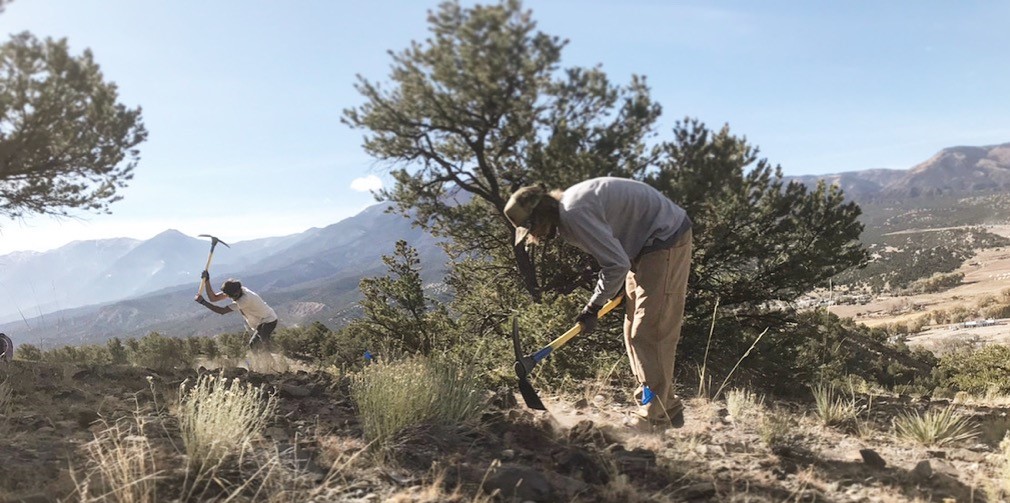 Additional Job Details
International Applicants Allowed?

No
Work Visa Sponsoring Available

No
Job Overview
Colorado Mountain Club is accepting applications for Trail Stewardship Leaders.  Applicants should have a strong desire to actively engage in a field-based, conservation program that will train, challenge and support participants' growth and development in their pursuit of meaningful careers in the conservation field.
Position Duties
Efficiently complete trail and conservation projects in a variety of environmental conditions, including adverse weather and terrain.
Coordinate logistics with CMC staff and land management agency personnel.
Positively interact with all user groups of public lands throughout Colorado.
Effectively communicate to CMC staff, project partners and volunteers in a timely manner.
Complete paperwork assigned by CMC staff and agency personnel.
Assist in management of crew budget and expenses.
Support and participate in CMC activities and tasks.
Utilize and engage in CMC risk management strategies.
Transport crew and gear safely in vehicles.
Position duties are subject to be altered based on changing program and project priorities.
To Apply
Please send a cover letter, resume and three professional references to [email protected]
---
CMC provides equal employment opportunities to all people regardless of race, age, sex, disability, marital status, sexual orientation, ethnicity, religion or any other basis protected by law.
*A seasonal worker is defined as a person who works for an employer who conducts business only during a defined period of time. Seasonal workers may also be hired in an occupation that operates only for a defined period of time. The season as defined by this job position is May 2021 through October 2021. Seasonal workers cannot collect unemployment benefits based on wages paid for the seasonal employment unless they are out of work during the specified season. Seasonal workers who work outside the season are no longer considered seasonal workers and may be able to collect unemployment benefits based on the seasonal wages.
Special Benefits
Leaders will be paid for crosscut, chainsaw and/or Wilderness First Responder certifications.
Minimum Requirements
Required Qualifications
Physically fit and able to work long days in adverse conditions.
Demonstrated experience with conservation work such as trail work, restoration work, etc.
Ability to work both independently and as a team member.
Capacity to professionally communicate in complex situations.
Ability to adapt and adjust to changing work conditions and/or priorities.
Good driving record and must hold a valid driver's license.
Frequently required to walk, sit, talk and listen.
Ability to occasionally lift and/or move up to 60 pounds.
Must be able to speak, understand, read and write English.
Reasonable accommodations may be made to enable individuals with disabilities to perform the essential functions.
Preferred Qualifications
Leadership experience in the conservation field.
Experience teaching, facilitating and team-building with diverse groups of people.
Participation in outdoor activities, work, lifestyle and/or pursuits.
Knowledge of land management agencies operations and expectations.
Bachelor's degree and/or college coursework with a focus on natural resources.
Extensive trail construction, trail maintenance, and/or trail design experience.
Crosscut and/or chainsaw certification.