---
Noxious Weed Specialist Position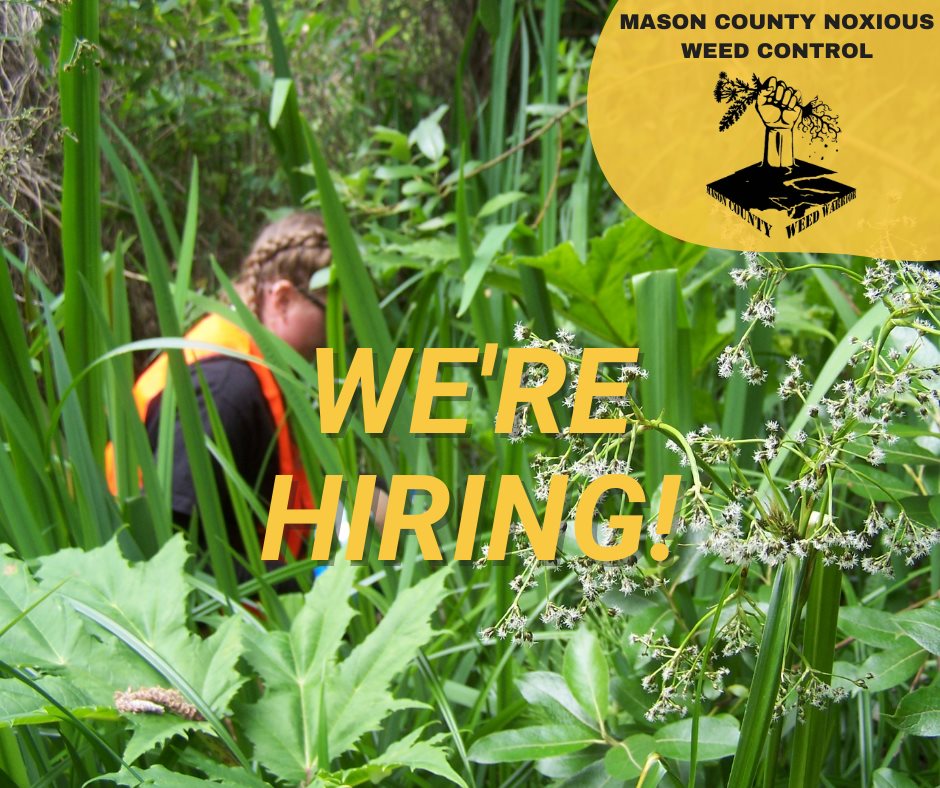 Additional Job Details
International Applicants Allowed?

No
Work Visa Sponsoring Available

No
Job Overview
For the full job description and information about our program, please visit our website. If you have questions regarding the position, please email [email protected] 
The Noxious Weed Specialist is responsible for identifying noxious weeds, collecting data, communicating with landowners, prescribing control methods, handling and applying herbicides, documenting treatments, attending educational events, participating in workshops and training courses, following the rules and regulations set by the Mason County Noxious Weed Control Board and Mason County Policy, working with partner organizations and organizing educational and volunteer events.
Job Duties May Include: 
Under the direction of the Coordinator, plan, organize and supervise the work of assigned field staff. Assist in training field staff to identify various plant species, research land ownership, use GPS equipment and GIS mapping systems and required record keeping methods.
Identify landowners by means of governmental records, mapping systems, and/or contact with neighbors.
Communicate with landowners, offering recommendations for noxious weed control.
Track and monitor contacts and outcomes in County database. Develop and maintain computer and GIS databases to track noxious weed infestation sites, correspondence and contact with property owners, and enforcement activity.
Operate county vehicle to facilitate field inspections and transport of equipment, personnel and materials to work sites.
Participate directly in weed control activities, including the use of herbicide and physical removal. Must be able to walk on uneven terrain and work in inclement weather. Utilize hand tools to carryout cutting, digging and pulling of noxious weeds. Utilize pesticide application equipment to mix, load and apply herbicides.
This position assists with technical writing and reports, and maintains the program's database.
Perform other duties as assigned.
Special Benefits
This position is based on a 20-40-hour workweek, with a flexible schedule to meet the needs of the employee.
Medical, dental, vision and life insurance are offered and the employee is required to contribute to the WA State Retirement System. 
MCNWCB will cover the costs of the employee's WA State Department of Agriculture pesticide application license.
Minimum Requirements
Bachelor's degree in Environmental Science, Ecology, Agriculture or other closely related field.
Ability to identify noxious weeds found in Washington. Knowledge of noxious weed taxonomy, biology and impacts. Familiarity with integrated pest management and weed control methods. Demonstrated field experience in managing noxious weed infestations and their impacts to natural resources.
Demonstrated ability to effectively communicate with the public on difficult, sensitive and technical issues, both verbally and in writing.
Knowledge of Washington State Noxious Weed Control law and other relevant local, state and federal laws.
Ability to work independently and as part of a team, coordinating with others to facilitate teamwork. Ability to perform multiple tasks simultaneously under tight deadlines, prioritizing work and managing own time.
Knowledge of Microsoft Excel databases, ArcGIS, Global Positional Systems (GPS) and Microsoft applications.
HOW TO APPLY
Applicants are required to submit a Mason County Application.
Return Applications to:
Mason County Human Resources
Mailing Address - 411 North 5th Street, Shelton, WA 98584
Physical Address - 423 North 5th Street, Shelton, WA 98584
Phone-(360) 427-9670 X 290