---
Field Coordinator (Field Team Program)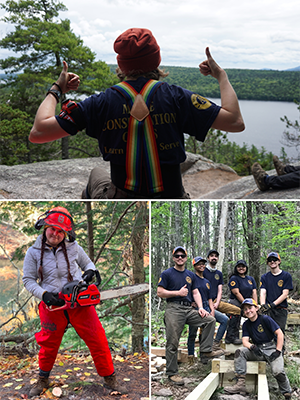 Field Teams
Do something different and discover your potential!
Looking to make a difference? Get paid to explore Maine's wilderness, coast, and mountains, whiled doing something that matters. Come gain confidence and grit serving with our Field Teams! Field Team members construct and rehabilitate sustainable trails in places like Baxter State Park, and on the Appalachian Trail, as well as land owned by local communities and land trusts. Your efforts as a Field Team member provide access to Maine's natural areas and present recreation, education, and fitness opportunities for the public. Team members gain an appreciation for their strengths and abilities, all while serving in some of Maine's most wild and beautiful places!
Resources:
Field Team FAQs (PDF)
Additional Job Details
International Applicants Allowed?

No
Work Visa Sponsoring Available

No
Job Overview
Location:
MCC Office: 54 Independence Drive, Augusta, ME 04330
Fieldwork is conducted throughout Maine.
Time Requirement:
ASAP – October 27, 2023
40+ hours a week
Monday-Friday during training and orientation weeks
Flex schedule possible during the field season (e.g. four 10-hour days); overnights and some weekends required; flexibility required to meet the needs of MCC members
 Training Provided:
Chainsaw Safety Training
Certificate in Management of Volunteers
Wilderness First Aid
Psychological First Aid
Nonviolent Communication
 General Description:
The mission of the Maine Conservation Corps (MCC) is to accomplish conservation projects that inspire individuals and enhance communities.  As an AmeriCorps program MCC is dedicated to accomplishing outdoor recreation and conservation projects for the public, promoting and managing volunteer opportunities, providing education, and building self-esteem, leadership, and skill sets to strengthen the future opportunities of members.
The Field Coordinator will provide support and training to field teams as assigned by the Field Team Program Manager.  Field Teams are engaged in trail construction and maintenance and other conservation projects.  Members contribute their service, earn AmeriCorps education awards, and receive relevant job experience.  The Field Coordinator's primary role is to provide field support, training, and leadership, monitor a portion of the field teams, assist with maintaining the vehicle fleet, tools, and equipment, and assist with office operations such as member recruitment and reporting.
Key Responsibilities:
Assist with the recruitment, screening, interviewing, and selection of AmeriCorps members.
Coordinate and lead training projects during Team Leader Training and Assistant Team Leader Training.
Collaborate with Team Leaders and the Program Manager to facilitate a one-week member orientation
Provide support, training, and supervision to a subset of MCC Field Teams (up to 4 teams)
Assist leaders with project logistics including pre-service site visits, tool and gear sign-out, required paperwork, electronic reports, and effective time management to meet project goals.
Help facilitate and maintain communications and coordination between the MCC office, partners, and teams.
Train members in all aspects of trail construction and rehabilitation.
Assist with maintenance and inventory of MCC leased vehicles, chainsaws, power equipment, rigging equipment, hand tools, safety gear, and camping equipment before, during, and after the field season.
Help collect, monitor, and report on paperwork & assignments from Field Teams including but not limited to evaluating Emergency Response Plans, monitoring daily project reports, reviewing and approving timesheets, and tracking the progress of multiple member surveys.
Co-lead MCC teams with less experienced leaders until they become more competent at their assigned tasks.
Assume a leadership role when a Team Leader unexpectedly leaves the program.
Maintain a personal cell phone for communications with the office.
Camp in tents and live cooperatively with members of the team during service sessions and training.
Monitor residential sites or other lodging facilities leased for use by MCC members.
Document incidents and behaviors related to policy violations.
Follow and uphold all safety, and sanitation policies and procedures, including heightened COVID-19 protocols.
During training and the field season, MCC Field Coordinators will be assigned 3-4 teams each to monitor and provide training and support.  Assignments will be made based on skills and experience.  Beyond technical support, Field Coordinators will provide mentorship to leaders and members.  Teams are in the field 5 or 9 days at a time, and Field Coordinators should expect to be called upon during time off to problem-solve projects, mediate team dynamics, and respond to emergencies. The anticipated 2023 Field Team projects are as follows:
Backcountry Stonework on the Appalachian Trail: 1 team will focus on Appalachian Trail rehabilitation projects in the backcountry. These projects will involve carrying food, tools, and gear between 1 and 4 miles to a backcountry base camp. Projects include the construction of stone staircases, stepping stones, and other erosion control structures.  The Field Coordinator assigned to these teams must have previous backcountry leadership experience and stonework and rigging experience.
Backcountry Stonework on Tumbledown Mountain:  Up to 3 teams will focus on stonework projects within the Tumbledown Mountain Public Lands Unit.  It is anticipated that at least two teams will be spike camping on the mountain, with other teams camping nearby to reduce impact. The Field Coordinator assigned to these teams must have previous stonework and rigging experience.  Previous backcountry leadership experience is preferred.
Camden Hills State Park Trail Restoration:  Up to 2 teams will be based at Camden Hills State Park, focusing on a variety of trail building and maintenance tasks including stonework, trail re-routes, carpentry projects, and some trail surfacing.  The Field Coordinator assigned to these projects will have experience in stonework, carpentry, and other trail-related skills.
Katahdin Woods & Waters National Monument: Up to 1 team will focus on general maintenance of the International Appalachian Trail in backcountry and remote settings.  Projects include corridor maintenance, blowdown removal, bog bridge construction, and stonework. The Field Coordinator assigned to these teams must have previous experience with chainsaw operations and backcountry leadership.
Roving Teams:  MCC anticipates having up to 3 teams that will travel and serve in multiple regions and project types.  Conservation projects may include stonework, bridge construction, invasive species removal, general trail maintenance, and construction.  The Field Coordinator assigned to these teams must have previous chainsaw experience.  Stonework and trail layout and design experience are preferred.
Working Conditions:
This position requires serving in adverse weather conditions, including cold, rain, heat and humidity, exposure to biting and stinging insects, hiking with all tools and gear over difficult terrain, and sleeping in tents. This position should be viewed not as a traditional job, but as an experience where long hours and extended time away from home, often in remote locations, are to be expected.
 Essential Functions
Have the desire to learn, serve others, and make a difference
Interest in serving with and mentoring a diverse group of people
Have the ability to live and perform strenuous work outdoors under challenging conditions
Ability to travel and camp on a weekly basis
Heavy lifting, bending, and carrying up to 50 pounds
Ability to hike 3-12 miles per day in rugged terrain, often carrying heavy gear and tools
Serving in extremes of heat or cold, as well as being exposed to biting and stinging insects
Serving, eating and camping outdoors in all weather conditions
Ability to perform tasks as part of a cooperative team and independently
Non-judgmental attitude, sensitivity to others, approachable
Responsible and reliable
Interest in personal growth and in participating in ongoing training
Must be able to work independently and be prepared to deal with difficult situations
Ability to teach trail skills
Possesses motivation and initiative
Excellent communication skills and organization skills
High level of comfort in the outdoors
Willingness to follow and uphold safety protocols
Excellent work ethic
 Qualifications:
High School diploma or equivalent
Must be at least 21 years old
Must submit to criminal history check
Must be approved to drive State vehicles by the Risk Management Division (clean driving record)
Minimum of 5 months of experience in a leadership role with a Conservation Corps or similar program
Experience with the operation and maintenance of hand tools, power tools, chainsaws, and rigging equipment
Preferred qualification:
Knowledge of sustainable trail layout and design
Experience with group facilitation and training
Experience with ArcGIS applications
Special Benefits
Stipend of $640-$720 per week based on the number of years as an MCC Field Coordinator (less taxes)
Health Insurance, including dental and vision
Maine State Park Pass
Prodeals – discounts on outdoor gear
Paid training (i.e. Chainsaw safety training, AmeriCorps Conferences, WFA)
Paid vacation and leave time
A wide range of networking and professional development opportunities