---
About Maine Conservation Corps
Who We Are
Established in 1983, the Maine Conservation Corps is an AmeriCorps Program made up of dedicated members, staff, partners, and volunteers serving the community and environment of Maine. MCC builds upon the legacy of the Civilian Conservation Corps of the 1930's by providing people of all backgrounds with structured service opportunities. Our placements promote leadership and personal development through a strong tradition of conservation and natural resource stewardship.
MCC members are a diverse group of people that commit to serving anywhere from 3 to 11 months. Many are students, recent graduates, or career changers looking to give back and gain experience in the field of natural resources. All are united in service to the State of Maine, its communities, and the conservation and preservation of our environment.
What We do
We enact our mission in the following ways:
Accomplish outdoor recreation and conservation projects: This is the primary focus of all MCC programs. Members build and rehabilitate campsites and trails (more non-motorized trails than any other organization in Maine), build outdoor learning centers for schools, construct cabins, picnic shelters, bridges and erosion control structures, maintain boundaries, improve wildlife habitat and timber stands, survey watersheds, test water quality, and oversee planting projects.
Provide conservation education: MCC strives to raise awareness and interest in the natural environment. Individual members serving with nonprofit organizations and natural resource agencies help develop curriculum, train volunteers, teach in classrooms, and conduct outreach presentations in the community.
Engage volunteers: The MCC recruits volunteers to serve alongside MCC teams and individual members at projects all over the state. Volunteers can join the MCC on the trail, in the classroom, or on the water to get involved in local efforts to protect and restore the environment.
Develop members: MCC programs develop a strong work and community service ethic, teamwork, communication skills, self-esteem and confidence, safety, job skills and outdoor living experiences. Members receive a weekly living allowance, opportunities for conservation networking, and gain experience in environmental careers. Most members are eligible to earn an AmeriCorps education award.
Why Work here
Environmental Stewards
Serve as an integral part of a conservation organization!
Want to take your background in natural resources to the next level? As an Environmental Steward (ES) you'll gain invaluable hands-on experience and confidence in the field, while networking with potential employers. Use your knowledge and expertise to tackle the needs of local organizations.
Each ES role is unique, past projects have included:
Environmental Education
Volunteer Management
Environmental Data Collection
Land/Trail Management
Resources: Environmental Steward FAQs (DOC)
---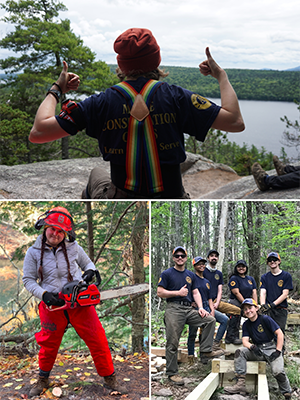 Field Teams
Do something different and discover your potential!
Looking to make a difference? Get paid to explore Maine's wilderness, coast, and mountains, whiled doing something that matters. Come gain confidence and grit serving with our Field Teams! Field Team members construct and rehabilitate sustainable trails in places like Baxter State Park, and on the Appalachian Trail, as well as land owned by local communities and land trusts.
Your efforts as a Field Team member provide access to Maine's natural areas and present recreation, education, and fitness opportunities for the public.
Team members gain an appreciation for their strengths and abilities, all while serving in some of Maine's most wild and beautiful places!
Resources: Field Team FAQs (PDF)