---
Field Coordinator (Environmental Steward Program)
Environmental Stewards
Serve as an integral part of a conservation organization!
Want to take your background in natural resources to the next level? As an Environmental Steward (ES) you'll gain invaluable hands-on experience and confidence in the field, while networking with potential employers. Use your knowledge and expertise to tackle the needs of local organizations. Each ES role is unique, past projects have included:
Environmental Education
Volunteer Management
Environmental Data Collection
Land/Trail Management
Resources:
Environmental Steward FAQs (DOC)
---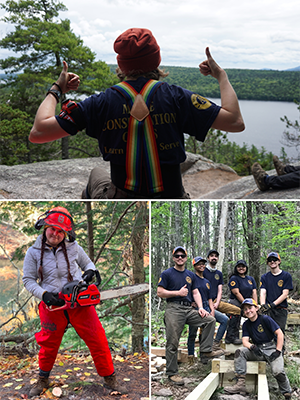 Field Teams
Do something different and discover your potential!
Looking to make a difference? Get paid to explore Maine's wilderness, coast, and mountains, whiled doing something that matters. Come gain confidence and grit serving with our Field Teams! Field Team members construct and rehabilitate sustainable trails in places like Baxter State Park, and on the Appalachian Trail, as well as land owned by local communities and land trusts. Your efforts as a Field Team member provide access to Maine's natural areas and present recreation, education, and fitness opportunities for the public. Team members gain an appreciation for their strengths and abilities, all while serving in some of Maine's most wild and beautiful places!
Resources:
Field Team FAQs (PDF)
Additional Job Details
International Applicants Allowed?

No
Work Visa Sponsoring Available

No
Job Overview
Location:
MCC Office: 54 Independence Drive, Augusta, ME 04330
Fieldwork is conducted throughout Maine.
Time Requirement:
Tuesday, January 3 – December 29, 2023
40+ hours a week
Monday-Friday during training and orientation weeks
Flex schedule possible during the field season (e.g. four 10-hour days); overnights and some weekends required; flexibility required to meet the needs of MCC members
Training Provided:
Chainsaw Safety Training
Certificate in Management of Volunteers
Wilderness First Aid
Psychological First Aid
Nonviolent Communication
 General Description:
The mission of the Maine Conservation Corps (MCC) is to accomplish conservation projects that inspire individuals and enhance communities.  As an AmeriCorps program MCC is dedicated to accomplishing conservation projects for the public, promoting and managing volunteer opportunities, providing education, and building self-esteem, leadership, and skill sets to strengthen the future opportunities of members.
The Field Coordinator will provide support and training to AmeriCorps Environmental Stewards as assigned by the Environmental Steward Program Manager.  Environmental Stewards (ES) accomplish a wide variety of conservation projects ranging from water quality monitoring, habitat restoration, mobilizing volunteers to maintain hiking trails, banding and gathering data on songbirds, restoring eelgrass, teaching school kids about shellfisheries, mapping invasive species, and more.  Stewards contribute their service, earn AmeriCorps education awards, receive and relevant job experience while engaged in 1700-hour or 900-hour AmeriCorps terms.
The Field Coordinator's focus areas include:
Field Support: This position will support the ES Program Manager by increasing the capacity for member support in the field. This includes site visits (monitoring for AmeriCorps compliance), field visits (technical support and training), volunteer events (support members in planning and executing service projects), and relationship building.
Office Operations: Member recruitment and reporting are primary office tasks, as well as assisting with social media and planning events such as National Days of Service, Stewardship Corps Days, and overall support to the MCC.
Volunteer Management: MCC ESs are required to use the Essential Volunteer Management Practices tool to improve the volunteer program within the host organization. MCC also requires documentation for volunteers leveraged by the ESs, this position will guide and support members in this process.
Key Responsibilities:
Assist with the recruitment, screening, tracking, and onboarding of AmeriCorps members.
Collaborate with the Program Manager and Training Coordinator to facilitate member orientation and training.
Provide ongoing support, training, and supervision to Environmental Stewards during their terms of service (approximately 22 members annually).
Build meaningful relationships with AmeriCorps members and Host Site Supervisors, including managing potential conflict, advocating for members, providing strategies for increased productivity in members, and moving towards the larger goal of enriching lives and building communities.
Assist ES with project logistics, volunteer events, required paperwork, and electronic reports.
Help facilitate and maintain communication between the MCC office, host sites, and stewards.
Help collect, monitor, and report on paperwork and assignments from ES including but not limited to quarterly reports, volunteer management action plans, volunteer engagement, reviewing and approving timesheets, and tracking the progress of multiple member surveys.
Prepare Social Media Posts including text and pictures for multiple platforms
Maintain a personal cell phone for communications with the office.
Document incidents and behaviors related to policy violations.
Follow and uphold all safety policies and procedures, including heightened COVID-19 protocols.
Adhere to the MCC code of conduct, safety rules and guidelines, drug-free workplace, and other policies outlined in the MCC Personnel Agreement.
Represent MCC in a professional and supportive manner to the public and media.
During the field season, the Field Coordinator will monitor and provide training and support to all stewards.  Beyond technical support, the Field Coordinator will provide mentorship to members.  ES schedules vary based on the needs of their host sites, and the Field Coordinator should expect to be called upon during time off to problem-solve projects, provide mediation and guidance, and respond to emergencies. The anticipated 2023 Host Sites are as follows:
City of Portland
Coastal Mountains Land Trust
Cumberland County Soil and Water Conservation District
Downeast Coastal Conservancy
Falmouth Land Trust
Greenhorns
Maine Bureau of Parks and Lands – Maine State Parks
Maine Department of Environmental Protection
Maine Department of Marine Resources – Maine State Aquarium
Harpswell Heritage Trust
Midcoast Conservancy
Rachel Carson National Wildlife Refuge
Rangeley Lakes Heritage Trust
Viles Arboretum
Working Conditions:
This position requires a mix of office and field environments.  Office days will occur in Augusta and will include a dedicated workspace.  Field days may include driving long distances, serving in adverse weather conditions, including cold, rain, heat and humidity, exposure to biting and stinging insects, hiking with tools and gear over difficult terrain, and sleeping in tents. This portion of the position should be viewed not as a traditional job, but as an experience where long hours and extended time away from home, sometimes in remote locations, are to be expected.
 Essential Functions
Have the desire to learn, serve others, and make a difference
Have a sincere desire to build strong relationships and help individuals grow
Interest and aptitude in serving with and mentoring a diverse group of people
Have the ability to live and perform strenuous work outdoors under challenging conditions
Ability to travel and camp weekly, as needed
Serving in extremes of heat or cold, as well as being exposed to biting and stinging insects
Ability to perform tasks as part of a cooperative team and independently
Non-judgmental attitude, sensitivity to others, approachable
Responsible and reliable
Interest in personal growth and in participating in ongoing training
Must be able to work independently and be prepared to deal with difficult situations
Ability to teach conservation skills
Possesses motivation and initiative
Excellent communication skills and organization skills
High level of comfort in the outdoors
Willingness to follow and uphold safety protocols
Excellent work ethic
 Qualifications:
High School diploma or equivalent
Must be at least 21 years old
Must submit to criminal history check
Must be approved to drive State vehicles by the Risk Management Division (clean driving record)
Minimum of 5 months of experience in a leadership role with a Conservation Corps or similar program
Experience with the operation and maintenance of hand tools, power tools, chainsaws, and rigging equipment
Preferred qualification:
Knowledge of sustainable trail layout and design
Experience with group facilitation and training
Special Benefits
Stipend of $640-$720 per week based on the number of years as an MCC Field Coordinator (less taxes)
Health Insurance, including dental and vision
Maine State Park Pass
Pro Deals – discounts on outdoor gear
Paid training (i.e. Chainsaw safety training, AmeriCorps Conferences, Wilderness First Aid)
Paid vacation and leave time
A wide range of networking and professional development opportunities