---
Community Tree Steward
Environmental Stewards
Serve as an integral part of a conservation organization!
Want to take your background in natural resources to the next level? As an Environmental Steward (ES) you'll gain invaluable hands-on experience and confidence in the field, while networking with potential employers. Use your knowledge and expertise to tackle the needs of local organizations. Each ES role is unique, past projects have included:
Environmental Education
Volunteer Management
Environmental Data Collection
Land/Trail Management
Resources:
Environmental Steward FAQs (DOC)
---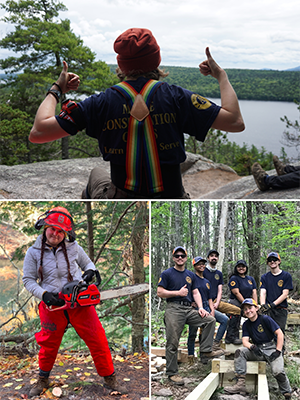 Field Teams
Do something different and discover your potential!
Looking to make a difference? Get paid to explore Maine's wilderness, coast, and mountains, whiled doing something that matters. Come gain confidence and grit serving with our Field Teams! Field Team members construct and rehabilitate sustainable trails in places like Baxter State Park, and on the Appalachian Trail, as well as land owned by local communities and land trusts. Your efforts as a Field Team member provide access to Maine's natural areas and present recreation, education, and fitness opportunities for the public. Team members gain an appreciation for their strengths and abilities, all while serving in some of Maine's most wild and beautiful places!
Resources:
Field Team FAQs (PDF)
Additional Job Details
International Applicants Allowed?

No
Work Visa Sponsoring Available

No
Job Overview
General Description:
Do you have a background in forestry and want to gain practical experience in the field? The Community Tree Steward (CTS) program offers opportunities for individuals to lead resiliency projects that engage residents in underserved communities.
Initiatives are developed based on local needs and may include:
Completing a Street Tree Inventory, including documenting and mapping trees
Developing a strategic plan for a community forest program
Collaborating with a licensed forester to develop or revise a forest management plan
Developing and implementing a forest pest response plan
Planting and maintaining trees
Live, learn, and explore Maine's conservation pockets with the Maine Conservation Corps (MCC). As a Community Tree Steward (CTS), you will connect with a community to better understand their aspirations for tree health and make them a reality. During orientation and throughout the term, you will earn certifications, engage in educational opportunities, and attend conferences that will advance your conservation career. Gain experience and an adventure while making a difference.
This general description of MCC CTS positions does not capture each host site's objectives.
Location:
Individual sites will be posted on the MCC website as they are recruited. Applicants will be sent guidance through the process. Projects are restricted to underserved communicates and may occur in a regional area.  Training and orientation typically occur near the MCC office in Augusta, Maine.
Time Requirement:
CTS are expected to serve a minimum of 40 hours per week. A regular schedule is determined by the Host Site and will include a minimum of 2 days off per week. Regular schedules may be modified for special events.
Description of Duties:
Duties related to urban and community forestry projects will be defined by the host site
Participate in MCC orientation, training, events, and conferences
Assist with pre-approved and allowable fundraising activities
Engage in volunteer management activities including:

Recruiting volunteers
Promoting and leading volunteer events
Collecting and submitting Volunteer Assignment Agreements to MCC
Implementing the Essential Volunteer Management Practices and Volunteer Management Action Plan
Complete ongoing assignments and required tasks, including job readiness training, construction of member portfolios, weekly timesheets, and quarterly reports.
Participate in a Site Visit with MCC staff
Maintain regular communication with MCC, including checking email no less than weekly
Participate in mid-term and end-of-term evaluations with the Host Site Supervisor
Adhere to the MCC code of conduct, safety rules and guidelines, drug-free workplace, and other policies outlined in the MCC Handbook and Member Agreement
Represent MCC and host site in a professional and supportive manner to the public and media
Essential Functions:
Ability to communicate clearly and effectively
Demonstrates good judgment and professionalism
Demonstrates initiative, reliability, and flexibility
Ability to serve both independently and as part of a team
Ability to manage time effectively and produce quality results with attention to detail
Demonstrates a desire to learn, serve others, and make a difference
Service Conditions:
Service involves frequent communication with multiple parties, and may include electronic, telephonic, and/or in-person communication
Service conditions vary by site, but all CTSs should expect a portion of service to be outdoors, and a portion spent connecting with the community to engage them in stewardship and education
Orientation and Training Topics:
Members will be provided with an initial orientation to MCC, and extensive training opportunities will be provided during orientation and after. Professional Development trainings will include Wilderness First Aid, Chainsaw Safety Training, Mental Health Education (either Mental Health First Aid or Psychological First Aid), Certificate in Management of Volunteers, Nonviolent Communication and Mediation, the AmeriCorps Member Conference and the Maine Volunteer Leadership Conference.
The Host Site and/or Maine Forestry Service will provide additional forestry-based training to accomplish specific projects as they relate to grant outcomes and organizational needs.
Members will receive FEMA Training FEMA IS-700B for the National Incident Management System (NIMS) and FEMA IS-244B for Developing and Managing Volunteers.
Job readiness training will also be provided, such as resume writing, job search components, appropriate workplace behaviors, and interview skills. Some topics are explicit lessons, and some will be learned throughout the term of service.
Volunteer Engagement
The CTS will utilize the Essential Volunteer Management Practices to improve the host site's volunteer program.
The CTS will also recruit and promote volunteer opportunities from the local community, businesses, and social organizations to accomplish projects. The MCC will assist CTS in identifying potential outreach opportunities and promoting events to increase volunteerism at the Host Site by using Essential Volunteer Management Practices. The CTS will improve the sustainability of the overall volunteer program.
Special Benefits
Weekly living allowance of $640 (before taxes) for 45 weeks
Health insurance, if eligible
Certifications
Conferences
Networking opportunities
Maine State Park Pass
A small number of Host Sites also offer housing as part of their position
Minimum Requirements
Qualifications:
Forestry degree, or equivalent experience in the forestry and natural resource conservation field
Must agree to a criminal history check
All positions at State sites require a valid driver's license with a good 5-year driving record
Passion for community service and the environment
Commitment to complete the full term of service
Additional skills, experience, and education requirements vary by site
CTS may be enrolled as AmeriCorps members. AmeriCorps additionally requires that members:
Must be at least 17 years old
Must be a US Citizen or permanent resident