---
Seasonal River Rentals Staff – Tigard, Oregon
We envision a thriving watershed that acts as a valuable community resource for everyone. At Tualatin Riverkeepers, we strive to exist at the intersection of environmental justice, protection, and conservation so that we all have equitable access to clean water, healthy ecosystems, and enjoyable river opportunities. Our organization is made up of passionate people each dedicated to protecting, restoring, and enjoying the Tualatin River watershed, and has been for over 30 years. Learn more about why we do what we do every day to keep the Tualatin River so special.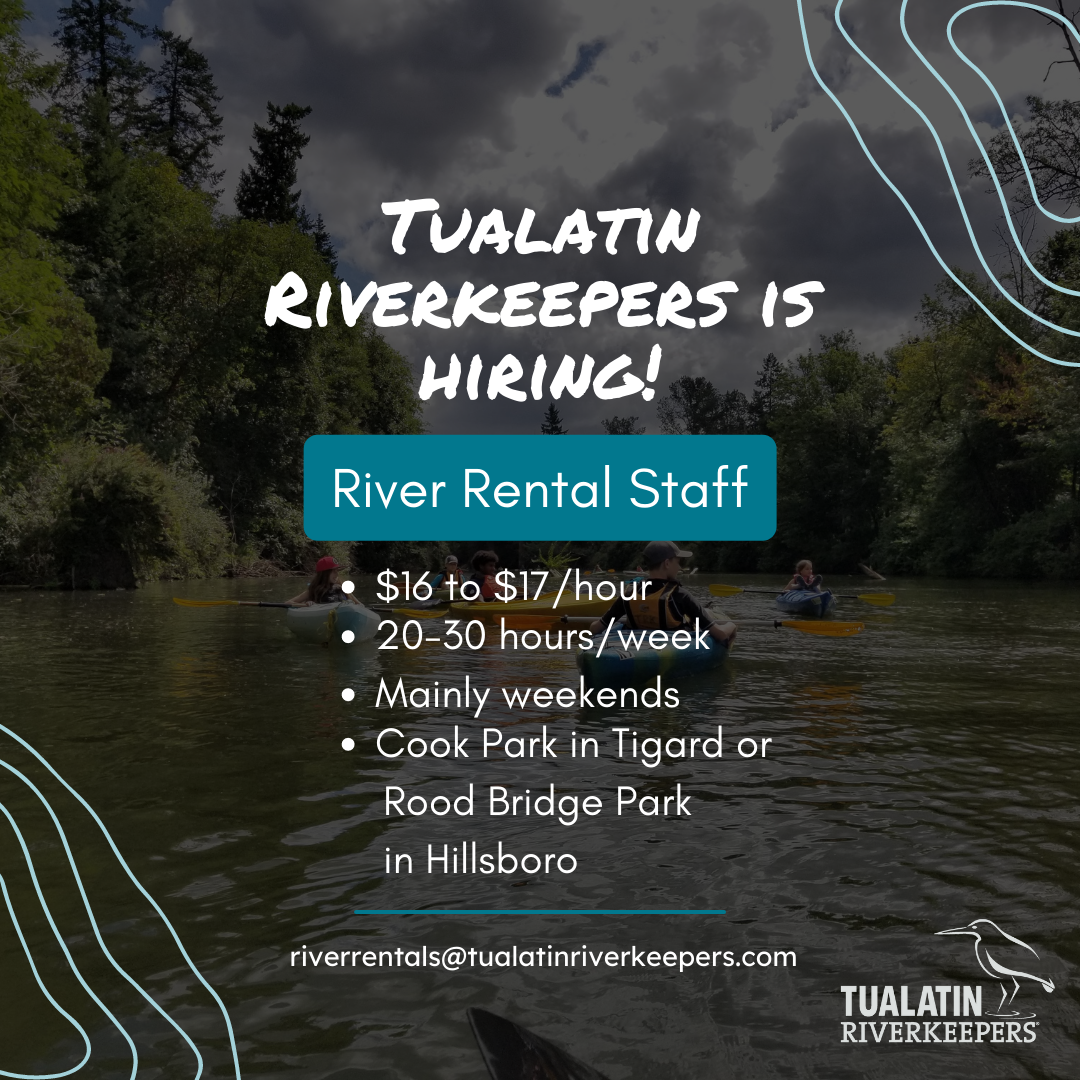 Additional Job Details
International Applicants Allowed?

No
Work Visa Sponsoring Available

No
Job Overview
River Rentals Staff will work in teams of three to five, renting canoes and kayaks to the public on a reservation basis. This is a physically demanding position that includes lifting of canoes and kayaks weighing 30 – 90 lbs, and frequent standing and movement in and around the water, throughout the shift. Rentals staff serve as the Tualatin Riverkeepers ambassadors, helping participants to access, learn about, and love the river, through safe and supported water recreation. This position requires competency with our online reservation system, after training. During busy or chaotic times, the ability to stay calm, track details, and ensure safety is essential. Work is outdoors in the summer, and thus occasionally in extreme heat.
Staff will be scheduled for approximately 20-25 hours per week, generally on weekends, at either Cook Park in Tigard or Rood Bridge Park in Hillsboro. Occasional work will be available on holidays or otherwise outside the regular rental hours (8:30 a.m. to 6 p.m., Friday-Sunday). A pre-hiring background check is required since some of our participant groups include minors. We are an equal-opportunity employer, and we do not discriminate on the basis of race, gender, ethnicity, or in any other way unrelated to the job qualifications.
Minimum Requirements
Experience paddling canoes/kayaks on relatively flat water, or are willing to learn prior to the first scheduled shift
Ability to lift and maneuver canoes and kayaks (50 lbs or more) to and from trailers, racks, and docks
Familiarity with paddling (canoe/kayak) gear, including fitting life vests (PFDs)
Enjoy working with a diverse public, with diverse paddling competency
Excellent communication and organization; timely and reliable attendance
Sense of humor, resiliency, and calmness under pressure
Experience with online payments programs, or willingness and aptitude to learn
Commitment to the Tualatin Riverkeepers' mission (above)
Preferred Qualifications:
Ability to speak and understand written and spoken Spanish
Knowledge of river ecology, or willingness to learn
Self-motivation, creativity, adaptability, and resourcefulness