---
Pali Mountain: Located in the San Bernardino Mountains, between Lake Arrowhead and Big Bear, our 250-acre mountain facilities are conveniently located in Running Springs, CA, just 90 minutes from Los Angeles, Orange and San Diego counties. Pali is home to: Pali Adventures night rest camp, Pali Institute and Pali Retreat outdoor education program, a conference and mountain retreat center.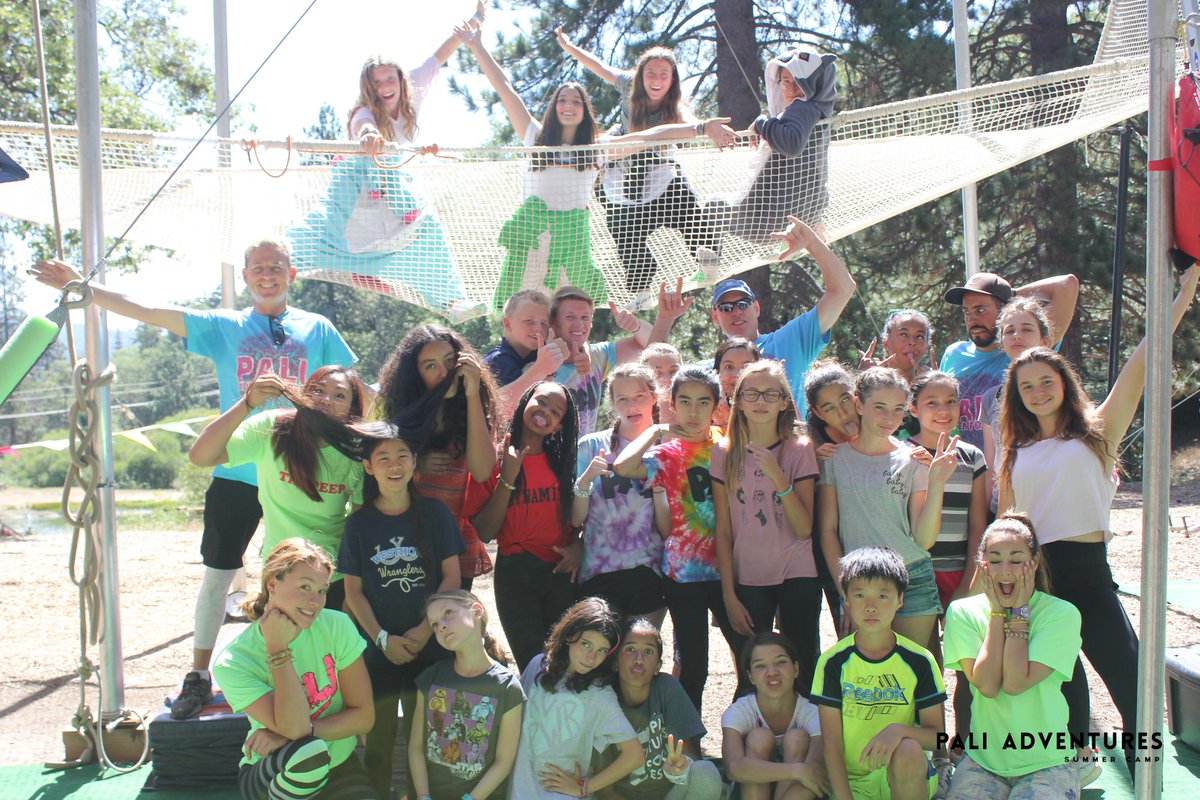 Additional Job Details
International Applicants Allowed?

No
Work Visa Sponsoring Available

No
Job Overview
Brief Description: Camp counselors at Pali Adventures are responsible for the physical and emotional well-being of campers. They supervise campers in a cabin setting, at mealtimes, and during activities. Counselors are in charge of facilitating activities throughout the day. Counselors work as a team to ensure all campers have a fun and memorable experience at camp. Counselors report directly to their Specialty Director and Group Leader. 
QUALIFICATIONS 
Exhibit characteristics of responsibility, dependability, leadership, patience, punctuality, hard work, sense of humor, self-control, integrity, common sense, good judgment and a positive enthusiastic attitude.

 

Complete the staff application and interview process.

 

Attend staff training (May 30 – June 12) and all in-service trainings.

 

Must have completed high school and be a minimum 18 years of age or older as of 5/30/20.

 

Desire and ability to work with

 

children.

 
 Staff members are entrusted with the care and safety of young children in a rustic setting replete with natural and man-made dangers. All staff members must have the ability to respond immediately to an emergency. Any staff member with a disability that may affect the Staff Member's ability to physically perform these requirements should immediately inform the Human Resources Department to determine possible reasonable accommodations. 
ESSENTIAL FUNCTIONS/DUTIES 
Serve the campers as a positive role model.

 

Camp staff members will actively supervise campers both in assigned cabin groups (typically 10 campers and 2 counselors) and at assigned specialty, elective, evening and weekend activity programs.  

 

All campers should feel comfortable, safe and included.

 
Learn the likes and dislikes of each camper in your care by showing genuine interest.

 

Recognize and respond to the opportunities for problem solving in the group.

 

The counselor is responsible for the health, safety and welfare of each camper within their cabin group and with whom they come into contact.  E.g. drinking water, daily showers, teeth brushing, active supervision during rest/ down time, application of sunscreen and lip balm, appropriate attire for the activity they will be attending, etc.  

 

Develop opportunities for positive interaction between campers and staff.

 

Provide opportunities for each individual to experience success during camp.

 
Carry out established roles in enforcing camp safety regulations.

 

Know where your campers are at all times.  

 

The staff member must never leave campers unsupervised.

 
Other Job functions 
On a rotating basis, all staff members will be scheduled to assist with the serving of meals

 

The staff member may be required to transport campers in camp vehicles in a safe acceptable manner, obeying all posted safety regulations.

 

The staff member is expected to assist in the development, implementation and supervision of assigned specialties and all other program areas. This includes the correct set up and pack down of equipment.

 
SKILL SETS 
 

 

Culinary

 

·      Knowledge of culinary art activities

 

·      Supervise/maintain a variety of culinary related elements and activities

 
·      Experience facilitating fine art activities

 

 

 

DJ

 

·      Knowledge of DJ equipment and set up

 

·      Experience teaching DJ skills

 
 

 

Broadcasting

 

·      Experience in film making or TV production and editing

 

·      Have excellent skills using editing software packages (Final Cut Pro X or Adobe Premier Pro) to meet daily editing deadlines

 

 

 
Film

 

·      Prior experience film making and editing

 

·      Have excellent skills using editing software packages (Final Cut Pro X or Adobe Premier Pro)

 

 

 

Rockstar

 
·      Experience facilitating music performance and music recording activities

 

·      Excellent skills using music recording and editing software packages to meet weekly deadlines

 

 

 

Extreme Action, Secret Agent and Girl Power

 

·      Experience with challenge course activities

 
·      Experience with archery, paint ball or motor sports a plus

 

 

 

Motor Sports

 

·      Experience with ATVs and motor bikes

 

 

 
Stunts

 

·      Experience with facilitating high falls and stunt fighting activities

 

·      Supervise a variety of stunt related elements and activities

 

 

 

Ninja Warrior

 
·      Experience facilitating parkour or Ninja Warrior activities

 

·      Supervise a variety of parkour related elements and activities

 

 

 

Water Sports

 

·      Experience facilitating waterfront activities

 
·      Experience motorboat driving and towing a variety of equipment

 

·      Strong Swimmer

 

·      Lifeguard Cert – a plus (training will be conducted)

 

 

 

Wacky Sports

 
Minimum Requirements
Over 18 years old