---
Day Camp Coordinator
This is not your ordinary camp experience. Each team member is trained in how to be an effective nature mentor and gets coaching as they practice survival and natural living skills. We explore the surrounding forests and streams as we build natural shelters, make fires without matches, and prepare wild plants for food. Our aim is to see the light in each person, camper or staff, and help inspire their passions and gifts. We mentor by asking questions, not giving answers, and facilitate the interconnectedness of everyone on our team from office staff to youngest camper. Our weekly schedule includes Mud Day and barefoot exercises, 20 min sit spots alone in the forest every day, check ins with Apprentices, Staff, Parents and CITs and swim time! Most important for the staff is the community cohesion we foster at Staff Camp. Here there are individual tent spaces, shared outdoor covered kitchen, shower, internet and toilet amenities as well as the comradery of living besides your coworkers  and diving deeper into natural living skills.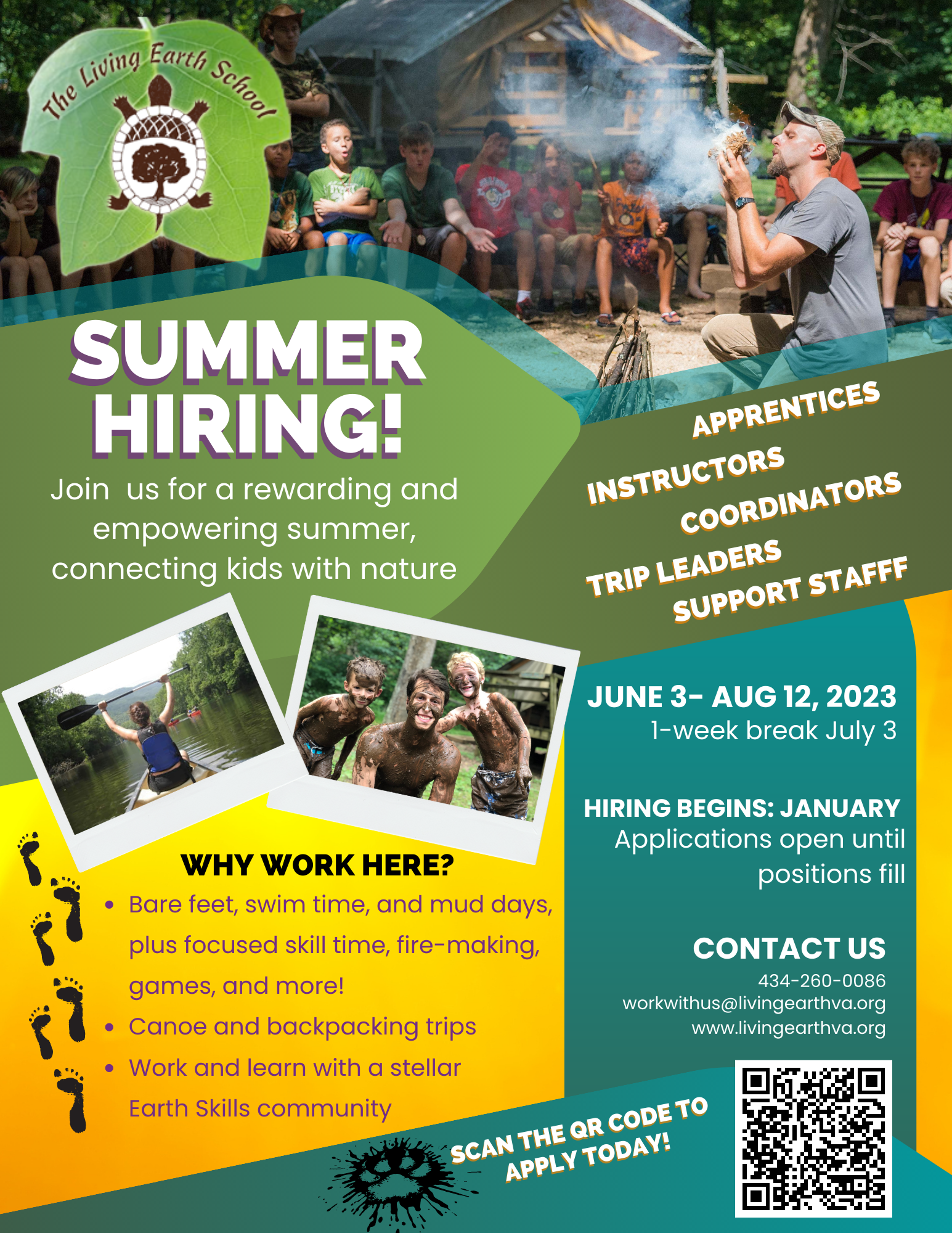 Additional Job Details
International Applicants Allowed?

No
Work Visa Sponsoring Available

No
Job Overview
We are looking for someone who likes to create and organize schedules, run meetings, and back up Instructors with enthusiasm and participation when things get silly, muddy and wild! Putting your maturity hat back on, Coordinators are responsible for the camp's parent interactions and communication, both face-to-face and over the phone. Emotional intelligence is sought in a Coordinator Candidate so they can offer help to staff in times of need, including situations involving campers. They help lead large-group activities, storytelling and swim time. When possible, they observe and provide feedback on staff instruction and group management. Coordinators must have previous experience managing a team in the outdoors so they can be confident in their decision-making leadership if events occur such as extreme weather, injuries, emergencies, or when disciplinary action is needed.
Our camp season runs June 3-August 12 with a week of training at the start, and one week break July 3-7!
Special Benefits
swim in a river every day!
individual training in survival and mentoring skills!
work with a variety of passionate folks!
Minimum Requirements
Bachelor's Degree or an equivalent amount of training and/or work experience 

Current CPR/First Aid/AED certification

Experience and passion for working with children

Experience managing a team

Naturalist and survival skills

21 years or older