---
Beginning Farmer Apprenticeship – Multiple Locations in Oregon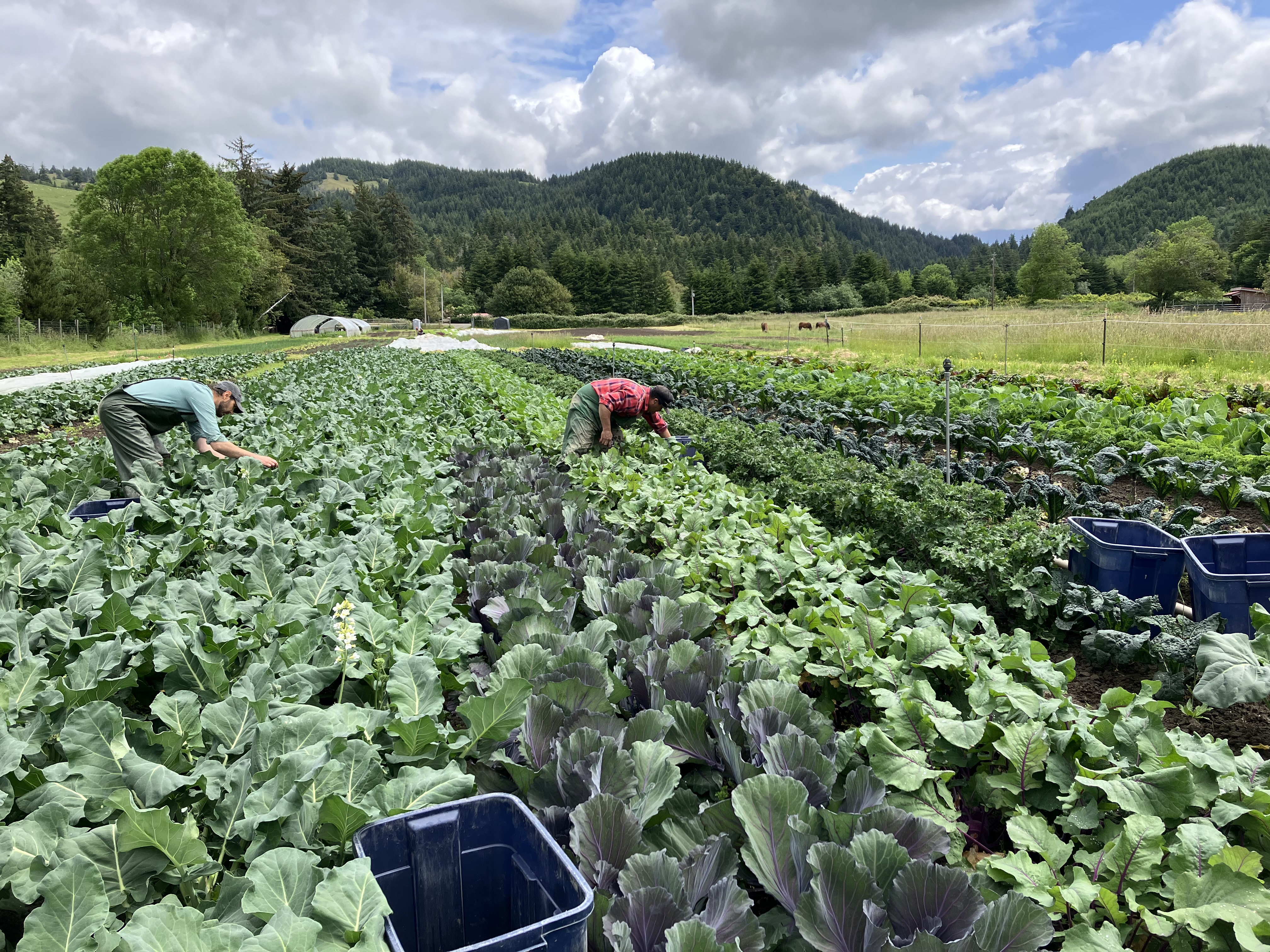 Additional Job Details
International Applicants Allowed?

No
Work Visa Sponsoring Available

No
Job Overview
Applications are now OPEN for ROGUE FARM CORPS' Apprenticeship Program in Oregon for the 2023 farm season!
Are you interested in a paid sustainable farm apprenticeship in Oregon with associated educational events geared for aspiring/beginning farmers? Check out Rogue Farm Corps' Apprenticeship Program! 
Apprentices train and work at one of RFC's partner host farms which provides mentorship and experience. Hands-on field training at a host farm is augmented by a series of classes, farm tours, discussions, and networking events organized by Rogue Farm Corps. Host farms provide wages and some offer housing and/or food as well. Start and end dates vary based on the host farm, but are generally spring through fall. The details of each host farm situation are different and are laid out in each host farm description. Full-time and part-time positions are available. Host farm and position information can be found on our website.
Rogue Farm Corps seeks to train an inclusive next generation of farmers and encourages applicants of all backgrounds and identities to apply. Scholarships for program fees are available.
To see an overview of all our farmer training programs, see our Farmer Training Programs page.
No experience is required to apply, however we recommend that applicants have some prior agricultural exposure/experience or physical/outdoor work experience. Many host farms prefer applicants who have some previous outdoor or physical work experience.
EDUCATIONAL EVENTS
Apprentices join other beginning farmers for an Educational Event Series facilitated by Rogue Farm Corps.
The full event series includes:
15-20 classes focused on foundational sustainable agriculture concepts, skills, and knowledge and the food system.

10-13 farm tours which showcase practical skills and individual farmers' stories, as well as provide insight into diverse production and marketing systems.

3-5 discussion circles with topics including Farm and Food Advocacy, Food Justice / Food Sovereignty, and Next Steps for Beginning Farmers.
RFC strives to make all educational events inclusive and welcoming to people from all backgrounds and identities. Classes, tours, and discussions are led by Rogue Farm Corps staff, agricultural professionals, and expert farmers.
For more information on the events, please visit our event series page and sample schedule.
APPLICATIONS
Apprenticeship applications are accepted on our website on a rolling basis until positions are filled (usually by early-mid March), but early applications are considered first. Approved applications are passed to host farmers. Host Farms decide which applicants to interview and offer placements to. Applicants must be 18 years or older and have authorization to work in the U.S.
FEES / SCHOLARSHIPS
Program fees are between $475 and $775 and are based on the number of events an apprentice will be attending. RFC has limited program fee scholarships available for BIPOC, LGBTQIA+, veteran, and low-income applicants.
TYPES OF AGRICULTURE
Rogue Farm Corps partners with dedicated mentor host farms and ranches that focus on sustainable, regenerative, ecological, and/or organic approaches in their production methods. Host farm enterprises vary by farm. We have host farms that produce vegetables, herbs, fruit, seeds, meat, dairy, eggs, and more, and in various combinations. Host farms are commercial, small-to-mid scale operations marketing to their local and regional community via a range of sales channels including farmers market, CSA, wholesale, and more. RFC apprentices are exposed to other farm production and marketing systems via farm tours.
COMMITMENT TO EQUITY AND INCLUSION
Rogue Farm Corps is committed to an ongoing learning process around privilege, power, inequality, and systems of oppression. RFC has a goal of making our programs welcoming to, inclusive of, and accessible to communities who are under-represented as farm operators in Oregon, including women, Black, Indigenous and people of color (BIPOC), LGBTQIA+ individuals, low-income individuals and immigrants. Our desire to create a more equitable food system is reflected in RFC's programs and collaborations.
Learn more and apply: http://roguefarmcorps.org/apprenticeship
To see an overview of all our farmer training programs, see our Farmer Training Programs page.
Questions? Reach out! [email protected]