---
Talkeetna Alaskan Lodge -Housekeeper
featured
About Denali Backcountry Lodge & Denali Cabins
Surround yourself with miles of wilderness, not thousands of tourists...
We believe that collecting memories is far more important than collecting things.
We share your longing to explore.
To get out into the world in search of remarkable experiences. This is what we call 'living'.
Our Vision is to be the world's leading provider of experiential adventure travel Our Mission is to connect guests and staff to iconic places through unforgettable, inspiring experiences
We are seeking fun, adventurous, hard-working, and conscientious people to join our team under the Midnight Sun. Our hiring needs range from chefs and servers, to naturalists and management, and everything in between. If you have a background in hospitality, tourism, maintenance, hotel management, natural sciences or recreation, we want to hear from you! Life is not one-size-fits-all, and neither are we. These places and experiences have the potential to change lives.
Are you ready?
Denali properties which offer a full-time Tour Office; a 46 cabin property near the entrance of Denali National Park, and an exclusive 42 cabin property located near Mt. Denali in Kantishna. We also provide daily bus tours in Denali National Park. Seasonal dates for employees vary depending on location. Please only apply for positions in which you can fulfill the entire work commitment, as priority is given to applicants that are available for the entire season.
Denali Backcountry Lodge
is an exclusive wilderness lodge located in Kantishna, deep inside Denali National Park. Nestled at the base of the Alaska Range, our lodge offers a unique wilderness experience and endless natural wonders to behold. The serenity and beauty of this lodge experience is a life-altering phenomenon.
Denali Cabins
are conveniently located just 8 miles south of the entrance to the Park, far enough from the crowds but close enough to the activities. Our collection of authentic cedar cabins offers an affordable alternative to the big commercial hotels sprawling the park entrance.
Denali Backcountry Adventure
- An adventure of a lifetime in just one day. This fully narrated day trip to our Property Denali Backcountry Lodge in Kantishna explores the entire 92 miles of the restricted Denali Park Road. Guests will enjoy buffet lunch and afternoon activities at the Lodge. The return trip to the Park entrance offers more opportunities to view wildlife and the stunning beauty of the Park.
The Employee Experience
Our core values are:
Safety First
Honor Place
Anticipate
Bring Your Best
Often, we hear our employee say that working here is an "adventure of a lifetime". We offer an experience like no other. It can't be compared to any other "job" because it's so much more. You are in an iconic place, surrounded by untouched wilderness and wildlife. This is the "real Alaska" where you engage with people from all over the world who want to be inspired.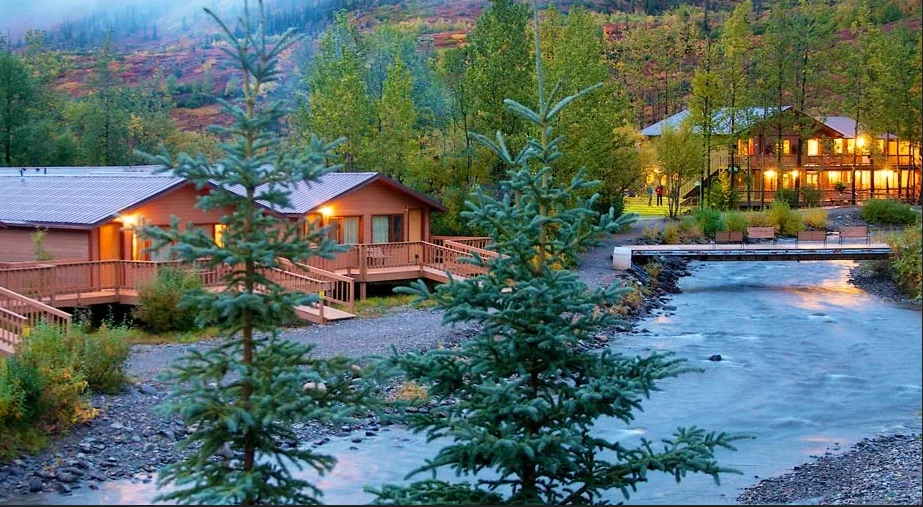 Additional Job Details
International Applicants Allowed?

No
Work Visa Sponsoring Available

No
Job Overview
Housekeeper
WHAT WILL I BE DOING?
Safety, anticipating guest needs, honoring our surroundings and bringing your best every day are the core values we live by in order to provide dynamic guest service at the Talkeetna Alaskan Lodge. As a Housekeeper, you will provide comfort to our guests by ensuring that guest rooms and public areas are clean and inviting. You will work with Team members within your department and others to complete the following tasks:
Clean all rooms and other areas assigned to you
Respond quickly to guest requests with accommodations that may enhance their experiences with the lodge
Ensure privacy and confidentiality for lodge guests
Address questions and concerns and report identified maintenance issues to supervisor
WHAT ARE WE LOOKING FOR?
Commitment to delivering exceptional guest service
Positive and willing to participate on a team and work with a winning attitude
Flexible and dependable
Ability to bend, lift, climb stairs, and lift up to 35 pounds
Previous housekeeping experience will be viewed advantageously
Pursuit is an equal opportunity employer committed to diversity in the workplace. We evaluate qualified applicants without regard to race, color, age, religion, gender, sexual orientation, disability, veteran status, and other protected characteristics.
Special Benefits
Room and Board
The Lodge provides optional on-site housing for its employees with cozy accommodations and all the basic amenities. Housing is available on a first-come first-served basis, though to support our staff coming from afar preference is given to our employees from out of town.
We offer both dorm-style and apartment-style communal housing, in addition to three RV sites with full hook-ups. Dorm-style accommodation offers cozy rooms suited to 2-4 roomies per dorm, with shared cooking facilities, leisure and TV area and gender separate shower/restrooms.
In apartment-style housing, our staff have 1-3 roomies per room and share common spaces with 6-7 people. Apartments offer fully shared facilities including a kitchen, bathroom and TV area.
All kitchens are equipped with refrigerators, stoves, microwaves, cooking equipment and utensils. The Lodge also provides bedding and towels and has free on-site laundry facilities for employees living in our housing.
We've got you covered with free wireless internet for personal laptops, with staff able to register one personal device and use up to 1G of data per day. Many of our staff buddy up to purchase additional monthly internet packages to share with roommates. Most cell phone carriers have service in the area, but we encourage our staff to check with their carriers before arrival to be sure.
Housing is offered for $7 per person per day, which is automatically deducted monthly to make it simple.
For health reasons, we unfortunately are not able to accommodate four-legged friends in housing or in the RV sites. Housing is a community experience, and we all follow guidelines and sign a housing agreement to help ensure a quality, peaceful living experience for everyone.
Employee Perks
Discounts are available at all of our Alaska Collection properties and experiences when space is available. There are many other discounts available on activities in the area and throughout the state to make the most of!