---
Housekeeping and Laundry Position with Housing
featured
Do you want to live and work in one of the most beautiful areas in Utah? Red Sands Hotel near is looking for amazing adventure seekers to join our team year-round or just for the season. We offer great wages, on-site housing, and a friendly, relaxed work environment. Our team is passionate about creating the best guest experience in all of Utah's 5 national parks. If you want to join our mission apply today! Torrey is located 213 miles away from Salt Lake City, and 327 miles from Las Vegas. Torrey is the gateway to Capitol Reef National Park. Our property faces beautiful green fields and striking red cliffs making the Red Sands Hotel a pictures place to live, work, and play. The hotel is located just 3 hours away from Moab (Arches and Canyon Lands National Park) and Bryce Canyon.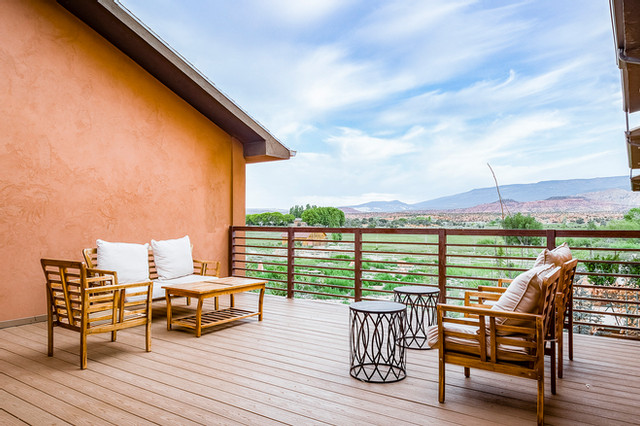 Additional Job Details
International Applicants Allowed?

No
Work Visa Sponsoring Available

No
Job Overview
2021 Spring through Fall Positions 
Housekeepers
Laundry attendants
Serve Staff
Landscaping/Maintenance
Wages:
We cross-train all our staff to be able to jump into any department when necessary. We start all our staff at $12 per hour plus tipsand servers at $5 plus tips. Housekeepers also collect tips.
The Ideal candidate identifies with these values:
Positive – Desire to Learn, Grow & Explore – Nice – Strong Curiosity – Gets along with Everyone – Proactive – Creative – Thoughtful – Results-Oriented – Intelligent – Resourceful – Wants to Make a Difference – People Lover – Team Player – Service-oriented
Room and Board:
A breathtaking view of North America's highest plateau "the Bluebell Knoll" at 11,313 feet is the centerpiece of our new staff housing facility. The housing includes a full kitchen, recreation room, coin-operated laundry, large rooms, men's and women's bathrooms, and flat-screen TVs. We offer housing at a very affordable monthly fee of $200 per person per month.
300 sq. ft Dorm style rooms include 2 twin beds, dresser or clothes rack, locking door and, plenty of space shared with one other roommate (Bring your own bedding, towels and toiletries)
Full Kitchen includes stove, microwave, cooking and eating equipment, private food lockers, tables, chairs, sofa & big screen tv
Employee designated wifi
Dorm style Men's and women's bathrooms (We supply toilet paper and cleaning supplies)
Special Benefits
Perks:
We offer discounted meals in the Rock Garden Eatery and Bar
Employee Housing
Minimum Requirements
Requirements:
Be able to relocate
Must be able to lift 45 pounds or more
Must be able to cross-train and work in other departments as needed
Have transportation to the property or to Richfield by Greyhound bus
Willing to work split shifts as required
Must get along with co-workers and work well with coworkers
Wear a mask while in the hotel and on shift as required by company standards or state and federal law