---
Alaska Boat Captain ($1,000 Signing Bonus!) – Skagway, AK
featured
The Employee Experience
Teamwork, Respect, Integrity, and Passion: these values are the foundation of Alaska X. We believe that teamwork is necessary to have a productive, fun, and safe work environment. Teamwork fosters creativity and learning which expands our skills and leads us to success. While working together as a team, it is imperative to respect each other. Having a respectful work setting and accepting each person for who they are and what they contribute promotes a positive and inclusive culture. Our integrity as a company is present in everything we do; without integrity, there is no trust, honesty or accountability. Lastly, we believe passion is the key to success as a company. Passion is the genuine enjoyment of what we do that motivates our consistent performance and inspires our vision as a business. We are looking for people who are fully committed to doing everything possible to ensure our guests leave feeling as though they just experienced the excursion of a lifetime. So, the ability to entertain and engage with people as well as the ability to provide superior guest service is a must for all of our positions. Our season runs from early May until late September and a generous bonus is given to employees who can stay the entire time. We offer a variety of seasonal summer jobs including: Mechanic, Maintenance crew, Unimog Operators, Naturalist and Canoe Guides, Zip Line Guides, Adventure Guide, ATV Guides, Horseback Guides, Dog Mushers and Handlers, Boat Captains, Office and Dock Personnel, Adventure Photo Crew, Retail Sales Associates, Culinary Support Staff, Groundskeepers/Gardeners, Carpenters, IT Team, and Graphic Design.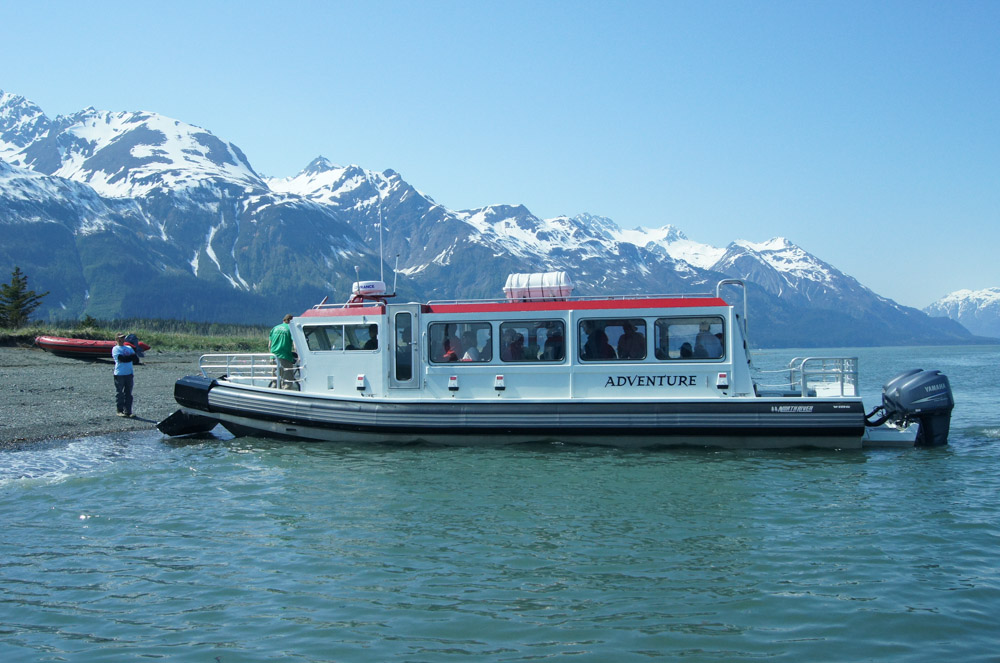 Additional Job Details
International Applicants Allowed?

No
Work Visa Sponsoring Available

No
Job Overview
MAIN JOB RESPONSIBILITIES:
Ensures guests experience the "E.X.C.U.R.S.I.O.N. of a lifetime" by being attentive to the needs and/or wants of the guests, answering any and all questions guests may have throughout the excursion, and notifying management of unhappy guests and/or obtaining guests' information for management to contact them
Safely transports guests to and from Glacier Point while adhering to the timing of the tour (including before and after)
Provides guests with accurate, quality information throughout the duration of the excursion
Assures the safety of the guests by conducting a pre-trip inspection daily, driving at a safe rate of speed at all times, assisting guests into and out of the boat, reviewing safety guidelines with the guests, and ensuring children stay with their parents at all times
Responsible for maintaining the cleanliness of the boat and fueling as needed
Assists in preforming maintenance tasks on the boat by immediately fixing boat problems (if possible) and reporting any issues Maintenance
Communicates accurate information to the appropriate staff when required and as needed (radioing in the guest count to Glacier Point, radioing to the office when appropriate, communicating with the dock, etc.)
Transports supplies to and from Glacier Point as needed
Special Benefits
Room and Board
We offer optional affordable company housing to our staff members in Juneau and Skagway and Haines.   Depending on the location, rents range about $60-$150 per week with utilities included.  Rent as well as a refundable housing deposit is deducted directly from paychecks, so no money is needed upfront. Most cell phone services work here, but we encourage staff members to check with their carriers before arrival.
Staff members residing in one of our cabin locations may be required to complete an outdoors skills class upon arrival.  This course covers the fundamentals of living outdoors and covers topics such as, but not limited to, keeping wood dry, starting a fire, garbage control, and how to avoid attracting wildlife.
Experience Alaska while earning incredibly competitive hourly wages.
We love it here, and we are sure you will too!
Minimum Requirements
ADDITIONAL JOB RESPONSIBILITIES:
Perform Boat Crew and Naturalist duties as assigned including assisting other Captains and providing narrated information to guests during their excursion
As assigned by management
ALL POSITIONS IN COMPANY ARE RESPONSIBLE FOR THE FOLLOWING:
Adhering to all company policies
Striving to accomplish goals discussed with management during any evaluations
REQUIRED KNOWLEDGE, SKILLS, AND ABILITIES:
Must possess the knowledge, skills, and abilities related to vessel operations.
Must be able to work on the water
Excellent communication skills that demonstrate a professional demeanor and the ability to interact with others with discretion and tact
Skilled in guest attentiveness as demonstrated by responsiveness to the needs and wants of our guests
Skilled in maintaining a positive attitude at all times even when handling difficult and/or stressful situations
Ability to memorize, recall, and present information and facts
Ability to make oral presentations that engage an audience
Ability to initiate interaction with guests
Ability to work well within diverse groups to achieve common goals
Ability to be detail-oriented and use good judgment when it comes to safety
Ability to work in a fast-paced work environment
Ability to assume and complete tasks without direction and with little supervision
QUALIFICATIONS:
Valid Captain's License with a minimum of a 25 ton rating
First Aid and CPR certification with the ability to obtain WFR or WAFA certification
Ability to work irregular work schedules
ENVIRONMENTAL CONDITIONS:
All work is performed outside, so will be subject to possible adverse weather conditions and variations in temperature.
Will be subject to noise, to include but not limited to, constant engine noise
Will be subject to dust, odors, and contact with water and/or other liquids
Will be subject to hazardous conditions (working with different machinery, etc.)
PHYSICAL ASPECTS OF THE JOB:
Must be able to lift and carry a 40lb weight for a distance of 200 feet
Position involves frequent (usually at least 2.5 hours a day but no more than 5.5 hours a day) standing, walking, handling objects, grasping items, & manipulating machinery and small items
Position involves occasional (usually no more than 2.5 hours a day) sitting, carrying, balancing, bending, stooping, and kneeling
Note: The statements in this document are intended to describe the general nature and level of work being performed by employees. They are not to be understood as an exhaustive list of responsibilities, duties, and skills required in this position. Furthermore, they do not establish a contract for employment, and they are subject to change, with or without notice, at the discretion of the employer.
Job Types: Full-time, Temporary
Pay: $29.00 - $33.00 per hour
Schedule:
Ability to commute/relocate:
Skagway, AK 99840: Reliably commute or planning to relocate before starting work (Required)
Application Question(s):
Are you willing and able to work in Skagway, Alaska March-October?
Education:
High school or equivalent (Preferred)
License/Certification:
USCG 25 Ton + License (Required)
Work Location: One location