---
SBP AmeriCorps Disaster Recovery Program
featured
SBP is looking for passionate, service-minded individuals to join our AmeriCorps team! SBP is a national nonprofit dedicated to shrinking the time between disaster and recovery. Since 2006, we have rebuilt nearly 2000 homes and developed affordable housing for people impacted by natural disasters. With the dedication and passion of our staff, AmeriCorps members, and volunteers, we help community members return home to safe, sanitary, and secure conditions.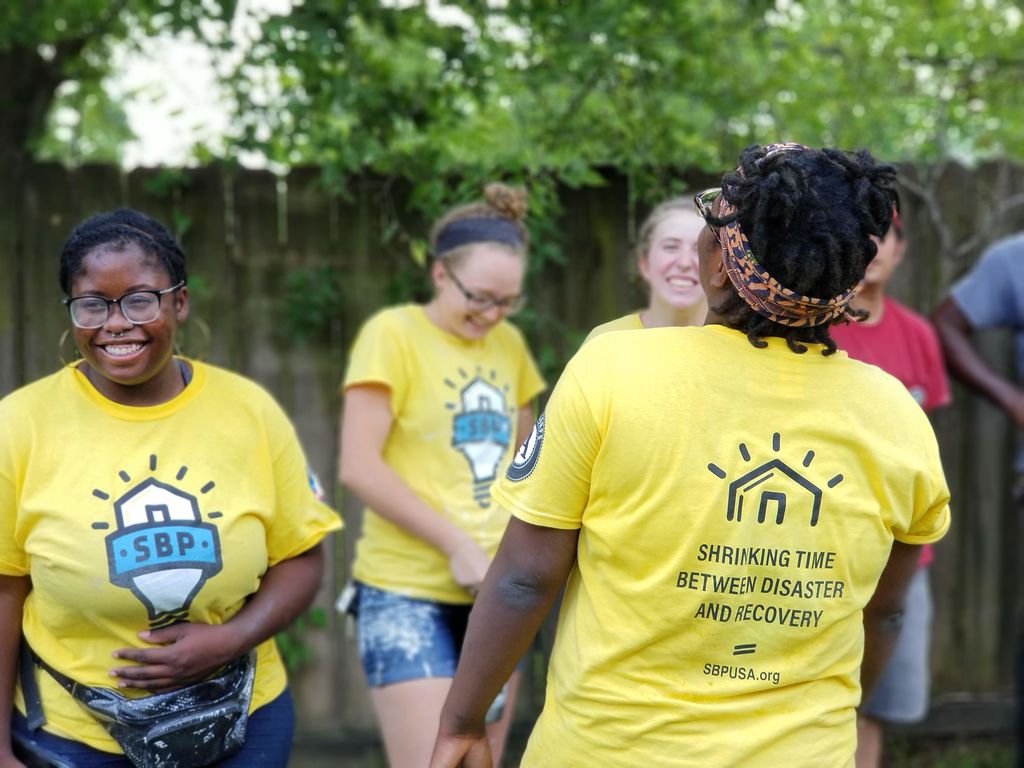 Additional Job Details
International Applicants Allowed?

No
Work Visa Sponsoring Available

No
Job Overview
JOIN the SBP AmeriCorps team and serve 10 months as a Disaster Corps Project Lead.
SBP's Disaster Corps Project Lead is pivotal in supporting response efforts immediately following the impact of natural disasters. Project Leads who serve under SBP's Disaster Corps will be the first on the ground to provide services to impacted vulnerable populations throughout the United States. The service activities that Disaster Corps Project Leads conduct when responding to disaster may include basic need assessments for communities, delivery, and facilitation of food and water, as well as mucking and gutting of disaster-impacted homes. As the face and voice of SBP, you will aid community members in beginning their recovery efforts and educate the public on resilience and predictability.
During blue-skies, Disaster Corps Project Leads will play a vital role in SBP's Rebuilding Program and actively lead the construction efforts on clients' homes. A Disaster Corps Project Lead is responsible for ensuring that each phase of construction is being completed on schedule. When volunteers are present, Disaster Corps Project Leads are responsible for training and managing volunteers, keeping them on task, monitoring safety, ensuring quality work, effectively participating in construction, and completing tasks on schedule.
Project Lead Essential Functions:
● Maintain a clean, safe, and organized worksite.
● Ensure that each phase of construction is being completed on schedule.
● Ensure that work is of the highest quality.
● Interact effectively and positively with other team members, volunteers, clients, and partners.
● Actively participate in construction projects.
● Perform strenuous, physical labor in different climates, over long periods of time.
Serving on Deployment; Essential Functions:
● Must commit to being available to travel within 24-48 hours notice and have the availability to deploy for 30 or more days
● In the event of a large-scale disaster, Disaster Corps members may be transferred to the impacted geography to support longer-term relief until an SBP operating site is fully functioning in the community.
● Provide immediate and long-term relief in areas impacted by natural disasters including but not limited to: basic needs assessments, volunteer coordination, client coordination, supply and donations management, debris removal, mucking and gutting homes, and any additional critical needs identified.
● Conduct disaster response and preparedness training for communities and other national service organizations
● Communicate the daily and weekly goals to all community stakeholders.
● Provide effective training and constructive feedback to volunteers and other responders who are completing mold suppression, mucking & gutting, insulation, drywall, mudding, painting, flooring, trim, doors, and other phases of construction.
● Participate in and execute construction activities alongside volunteers and other responders.
● Maintain a professional and positive attitude when serving.
● Ask volunteers to return and spread the word about the enduring needs.
● Serve as a liaison between the homeowner and volunteers.
● Flexibility with housing while deployed which could include: public shelters, AirBnBs, hotels, religious facilities, or other temporary housing options available. SBP will provide bedding materials if none are available.
● Flexibility with shared transportation, and irregular service hours and days.
● Ability to lift at least 50 lbs.
● Participate in September 11th Day of Remembrance and Martin Luther King Jr. Day of Service events, which may take place on a weekend or during holidays and include activities outside of the scope of typical day-to-day functions.
o Per 45 CFR §2510.20, SBP has determined that the probability of access to vulnerable populations is so great that all members will receive the three-part NSCHC: NSOPW, FBI, and required state components (residence and state of service, as necessary).
Candidates without prior construction experience are still encouraged to apply. If you're committed to learning, have a strong work ethic, and enjoy leading volunteers, we want you on our team.
Watch our Anthem to hear how SBP is helping prevent people from reaching their breaking point.
Learn how AmeriCorps members play a part in the growing national service movement and have the opportunity to develop valuable professional skills.
Ready to make a big impact? APPLY TODAY!
Special Benefits
Monthly Living stipend of $1,427
An additional $150 monthly housing stipend for individuals who have previously served in AmeriCorps, NCCC, or VISTA
An education award of $6,195 upon successful completion of each 10-month term
Eligibility to postpone repayment of federally guarantee student loans during their service term. (The National Service Trust will also pay all or a portion of the interest that accrued during the service period.)
Free limited benefits health coverage
Child care assistance
Valuable professional development and opportunities to further their career potential opportunities to travel in order to respond to a disaster event
Minimum Requirements
Knowledge, Skills, and Abilities Required:
● Strong organizational skills and ability to delegate tasks effectively
● Ability to clearly communicate needs and expectations to people of various backgrounds.
● Strong interpersonal skills, including active listening.
● Ability to maintain a calm, professional demeanor in challenging situations, including client crises.
● Demonstrated problem solving skills.
● No construction experience necessary, although helpful, as this is a construction heavy position.
Qualifications
● All candidates must be at least 17 years of age or older.
● At least five members of the Disaster Corps must be satisfy the following requirements
○ Satisfy a Motor Vehicle/Driver History Check showing:
■ Class C driver's license in good standing
■ Must be 21 years or older
■ 21 and 22-year olds must have clean driving record
○ For candidates 23 and older, the following applies:
■ No more than two moving violations in last 3 years
■ No DWI/DUI in last 5 years
■ No major violations in the last 5 years