---
Bicycle Tour Guide and Driver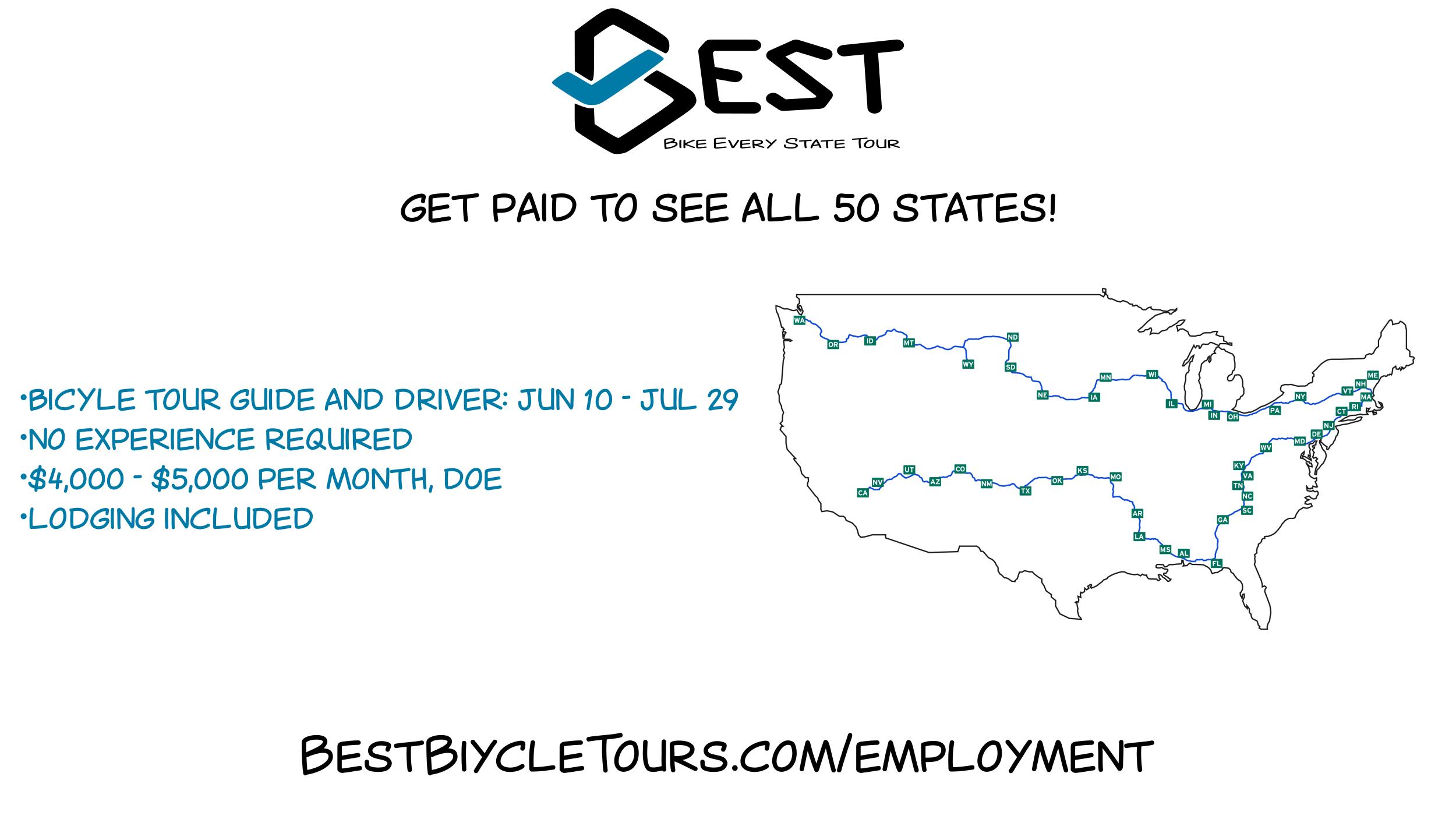 Additional Job Details
International Applicants Allowed?

No
Work Visa Sponsoring Available

No
Job Overview
About
Best Bicycle Tours provides supported bike tours across the United States. We aim to provide the best routes with the best support and the best staff. That's where you come in.
One of our tours is the Bike Every State Tour, or BEST, which involves riding 100 miles in each of the 50 states in 50 days. This job posting is for the Staff Test Ride, in which our Ride Director will complete BEST in order to scout the route for the official ride.
Employee Experience
You will have 3 main roles:
Driving from state to state. You'll drive close to 8,000 miles over the course of the trip, or an average of about 165 miles per day. The shortest day is 40 miles and the longest day is 340 miles.
Setting up the mid-ride water stop. You'll set up the cooler and snacks for an aid station that is located approximately 50 miles into the day's route.
Grocery shopping. Approximately 3 times per week.
Ideal Candidate
Our ideal candidate is an avid cyclist, but any adventurous person is welcome to apply. No experience required. You must be able to legally operate a motor vehicle in the United States.
Room and Board
Lodging, which consists of nightly shared hotel rooms, is free. Hotels may provide free breakfast, but this is not guaranteed.
Employee Perks
Employees receive a 50% discount on any future trip offered by Best Bicycle Tours. You will also be first in line for future job openings. The official BEST takes place from September 1 – October 20 if you want to do it all again!
Getting Here and Getting Around
We will meet in Las Vegas, NV on 6/10/23. The preceding flight to/from Hawaii is optional, but included if you choose to go. Similarly, you can choose to either stop in Seattle on 7/29/23 or finish it off with an included trip to Alaska.
For Fun
You are welcome to bring your own bike! You will have free time to ride. Since this is the Staff Test Ride, you will be the only employee on staff and will have plenty of time to yourself. This is perfect if you enjoy cycling, running, reading, writing, art, photography, or other solo activities.
How to Apply
Apply on our website: https://bikeeverystatetour.com/guidedriver.html
It's quick and easy to apply. Simply fill out the short questionnaire and submit your resume. You'll receive a response within a week.