---
Field Team Member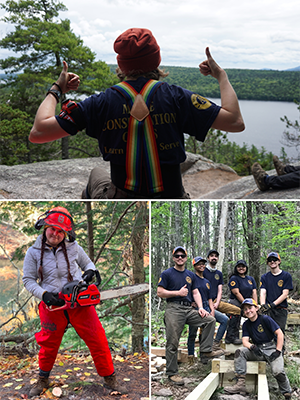 Field Teams
Do something different and discover your potential!
Looking to make a difference? Get paid to explore Maine's wilderness, coast, and mountains, whiled doing something that matters. Come gain confidence and grit serving with our Field Teams! Field Team members construct and rehabilitate sustainable trails in places like Baxter State Park, and on the Appalachian Trail, as well as land owned by local communities and land trusts. Your efforts as a Field Team member provide access to Maine's natural areas and present recreation, education, and fitness opportunities for the public. Team members gain an appreciation for their strengths and abilities, all while serving in some of Maine's most wild and beautiful places!
Resources:
Field Team FAQs (PDF)
Additional Job Details
International Applicants Allowed?

No
Work Visa Sponsoring Available

No
Job Overview
General Description
Build a path, while finding yours! Live, serve, and explore Maine's wilderness, coast, and mountains with Maine Conservation Corps (MCC).  Members serve in teams of three to six, using traditional construction and maintenance skills to enhance hiking, biking, skiing, and other types of recreational trails throughout the state, and engage in other conservation projects to improve habitat and expand access to treasured natural areas.  This short-term commitment leads to long-term impacts. You'll make a difference in local communities while connecting to nature, peers, and yourself.
Location:
54 Independence Drive, Augusta, ME 04330
Training will take place in Raymond, ME; field projects are conducted throughout Maine.
Start Date: Monday, August 21, 2023
End Date:  Friday, October 13, 2023
Time Requirement: Full-time, 40 hours a week, for 9 days (Monday – Tuesday), followed by 5 days off OR Monday – Friday with weekends off. It is typical to have a mixed schedule, and each team has a unique project and travel schedule. Overnights and weekends are required. Field Team Members starting service in August are 300-hour AmeriCorps members
General Description:
Team Members will attend a one-week member orientation to MCC and AmeriCorps.  Topics will include:  backcountry wellness, Leave No Trace ethics, diversity and inclusivity, and an introduction to trail tools and safety standards.  During the field season members will participate in ongoing job readiness training including job searches, resume and cover letter writing, and goal setting.
Field Team Members will complete conservation projects as part of a team primarily focused on the rehabilitation and construction of recreational trails across Maine.  You can expect to serve on physically challenging projects in any kind of weather, gaining hands-on experience in the groundwork of stewardship.  The Team Member position requires a positive attitude, a willingness to learn, the ability to live and serve collaboratively in a team setting, and the physical ability to carry out the essential functions of the position.
Duties:
Learn all aspects of trail construction and rehabilitation.
Build new trails, rehabilitate existing trails, and complete other conservation projects

Build bridges, boardwalks, wooden ladders, etc.
Construct rock staircases, retaining walls, stepping stones, etc.
Clear trails (cut and haul brush, dig to mineral soil, pull stumps, etc.)
Other treadway maintenance and construction (crush rock, haul gravel)
Habitat Restoration, such as invasive plant removal

Participate in job readiness training
Adhere to the MCC safety rules and guidelines including heightened COVID-19 protocols
Follow the MCC Code of Conduct, and all guidelines set forth in the member agreement and MCC Handbook.
Adhere to the MCC drug-free workplace policy.
Submit paperwork in a timely manner. Paperwork includes timesheets, job readiness assignments, and other forms required by the MCC.
Represent the MCC in a professional and supportive manner, to the public and media.
Live cooperatively with other members during training and service sessions.  Willingly perform joint living tasks, such as cooking and cleaning, and maintaining hygiene (Not to be counted as direct service hours).
Service Conditions:
This position requires serving in adverse weather conditions, including cold, rain, heat, and humidity, exposure to biting and stinging insects, hiking with all tools and gear over difficult terrain, and sleeping in tents. This position should be viewed not as a traditional job, but as an experience. Long hours and extended time away from home, often in remote locations, are to be expected.
Training:
Attend training, such as: orientation to the MCC and AmeriCorps, Leave No Trace, diversity and inclusivity, introduction to trail tools and safety standards.  A portion of MCC Team Members will attend Chainsaw Safety Training. Chainsaw training is only available to Team Members starting in June.
Participate in ongoing training such as: resume writing, job search components, and interview skills
Essential Functions:
Have the desire to learn, serve others, and make a difference
Willingness and physical ability to serve on a variety of conservation projects, which will include using power and hand tools
Heavy lifting, bending, and carrying up to 50 pounds
Serving on trails across steep or uneven terrain
Serving in extremes of heat or cold, as well as being exposed to biting and stinging insects
Serving, eating, and camping outdoors in all weather conditions
Ability to hike 3-12 miles per day in rugged terrain, often carrying heavy gear and tools
Ability to perform tasks as part of a cooperative team
Non-judgmental attitude, sensitivity to others, approachable
Responsible and reliable
Interest in personal growth and in participating in ongoing training
Interest in serving with a diverse group of people
Willingness to follow heightened health and safety protocols due to COVID-19.
 Marginal Functions:
The ability to operate an MCC vehicle to transport members and gear to and from project sites
Qualifications:
Must be eligible for AmeriCorps
High School diploma or equivalent
Must be at least 17 years old
Must be a US Citizen or permanent resident
Must agree to criminal history checks
To Apply: Submit an MCC Application, and send a copy of your resume to [email protected].  You will be contacted with further instructions.  You may direct questions to the same email above.
Special Benefits
Team Members are AmeriCorps members who will receive a weekly living stipend of $325 (less taxes). Other benefits include a wide range of training and networking opportunities, a Maine State Park Pass, discounts on outdoor gear, and an education award of $1,374.60.  Some members may also be eligible for student loan deferment and childcare reimbursement.