---
900 Hour Environmental Steward/Greenhorns
Environmental Stewards
Serve as an integral part of a conservation organization!
Want to take your background in natural resources to the next level? As an Environmental Steward (ES) you'll gain invaluable hands-on experience and confidence in the field, while networking with potential employers. Use your knowledge and expertise to tackle the needs of local organizations. Each ES role is unique, past projects have included:
Environmental Education
Volunteer Management
Environmental Data Collection
Land/Trail Management
Resources:
Environmental Steward FAQs (DOC)
---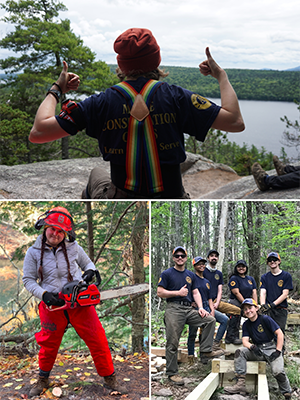 Field Teams
Do something different and discover your potential!
Looking to make a difference? Get paid to explore Maine's wilderness, coast, and mountains, whiled doing something that matters. Come gain confidence and grit serving with our Field Teams! Field Team members construct and rehabilitate sustainable trails in places like Baxter State Park, and on the Appalachian Trail, as well as land owned by local communities and land trusts. Your efforts as a Field Team member provide access to Maine's natural areas and present recreation, education, and fitness opportunities for the public. Team members gain an appreciation for their strengths and abilities, all while serving in some of Maine's most wild and beautiful places!
Resources:
Field Team FAQs (PDF)
Additional Job Details
International Applicants Allowed?

No
Work Visa Sponsoring Available

No
Job Overview
900 Hour Term:  June 5, 2023-November 17, 2023
Housing: Provided-rustic bunkhouse
Days and Hours of Service:  40 hours per week: may include evenings and occasional weekends.
Additional Training Provided: Chainsaw Safety Training
Host Site and Position Overview:
Greenhorns is a 15 year old grassroots non-profit dedicated to supporting careers in organic agriculture. We create programming to welcome young people in eluding networking events, workshops, symposia etc. We make films, run workshops and host artists at our Agrarian Library and campus in Downeast Maine.
The ES will be involved in our "Civilian Climate Corps" (CCC) program, trail making, and resilience planning in Pembroke. The CCC program will include engaging stakeholders, running an all-ages youth camp, and developing an action plan should funding be made available at the federal level. The ES would assist in the construction of a public trail along the Pennamaquan River in Pembroke, which will incorporate interpretive signage on the history of the area. Finally, the ES would assist in a resilience planning process for the town of Pembroke. In addition, the ES will support and work directly with landscape architects and Greenhorns leadership to develop a CCC hub online, available as part of the larger Greenhorns network.
The ES will support CCC curriculum development and implementation, aid in trail construction, and co-facilitate resilience planning for the town of Pembroke. These activities will support Greenhorns' goals of providing education on sustainability and ecosystem health to the public, improving access to natural commons, and participating in our civic community in order to strengthen our hometown in the face of climate change.
Timeline:
June: Orientation and training; ES will familiarize themselves with the work done thus far, gauge workflow and proposed timeline for goal completion.
July-August: CCC curriculum development and implementation. Assist RISD faculty with program design, support camp activities. Begin trail work; clear brush following local and state regulations, consult with Historical Society for interpretive signage.
September-October: complete trail work; begin stakeholder engagement for resilience planning. Meet with local community groups and civic centers, gather input and translate into action plan.
November: Use community input to develop robust proposal for resilience plan. Bring to the appropriate forum for consideration and adoption.
Description of Duties:
Collaborate with partners on development and implementation of a curriculum for all-ages "Civilian Climate Corps" camp
Interpret local and state regulations regarding trail construction
Assess and carry out trail construction; including clearing brush, limbing trees, mowing, and other trail-related activities
Liaise with the local Historical Society to design signage displaying historical uses of the Pennamaquan River
Install signage
Gather stakeholder input for a town-wide resilience plan; analyze and interpret data
Synthesize a comprehensive resilience plan for the town of Pembroke based on community input, as well as qualitative and quantitative research
Bring the resilience plan to the town, submit for consideration and/or adoption
Be a responsible and considerate member of a cohabiting environment
Perform all necessary clerical tasks to ensure proper tracking of hours, timely completion of tasks, seamless coordination with partners, etc.
Essential Functions:
Proficiency in Microsoft Office
Familiarity with trail work (chainsaw training provided)
Ability to analyze information and synthesize concise, written material
Ability to work with multiple partners on several projects at once, maintaining time management and prioritizing efficiently
Ability to work in both an office and out in the field for 8 hours per day. Ability to lift at least 75lbs.
Ability to operate a motor vehicle.
Ability to communicate effectively and professionally
Strong organizational skills
Demonstrates excellent writing skills
Ability to manage time effectively
Familiarity with mountain hiking trails
Experience with general maintenance skills
Willingness and physical ability to participate in a variety of conservation projects, which will include using power and hand tools
Heavy lifting, bending, and carrying up to 50 pounds
Walking across steep or uneven terrain
Serving in extremes of heat or cold, as well as being exposed to biting and stinging insects
Ability to hike 3-12 miles per day in rugged terrain, often carrying heavy gear and tools
Marginal Functions:
Experience in policy writing
Experience in trail design and planning
Experience in community engagement or community organizing
Service Conditions:
Service includes indoor office settings and outdoor field settings
Service is performed outdoors in all weather conditions and biting and stinging insects
Service involves some physical labor, occasional hiking with gear and tools over difficult terrain
Service involves travel to nearby locations around Pembroke (*20 mile radius)
Summer living conditions there will not be running water, electricity, or wifi in the housing location. In the winter, these amenities are provided. During the summer, the ES may use the outdoor cooking and washing facilities at the home farm, and access wifi at one of several other buildings.
Service involves frequent communication to multiple parties, and may include electronic, telephonic and/or in-person communication
Service involves managing time effectively and completing tasks with attention to detail
Service will require the ability to self-motivate, serve independently and collaboratively
Site Specific Qualifications:
Experience in community education, engagement, or organizing
Experience in program management or program development
Experience in trail work and maintenance
Bachelor's degree in Environmental Science, Biology, or related field
Proficient with Microsoft Office, databases, desktop publishing and websites preferred
Ability to critically think and solve problems
General ability to serve independently in the field and maintain equipment, as well as an affinity for leading activities and discussions with volunteers and the public
Orientation and Training Topics:
Members will participate in up to five orientation and training days, typical topics include: Intro to AmeriCorps, Prohibited Program Activities, MCC, Host Sites and You, OnCorps reporting, Portfolio Development, Professional Communication, National Incident Management Systems, Leave No Trace, Intro to Trails, Tool Safety, Use and Maintenance, Interpretive Programs. Initial orientation and training will likely include some virtual aspects in 2023.
 Job readiness training, such as resume writing, job search components, appropriate workplace behaviors, and interview skills will be taught throughout the term of service.  Additional training may be provided by the Host Site.
 Volunteer Engagement
The Environmental Steward will utilize the Essential Volunteer Management Practices to improve the site's volunteer program.
The MCC ES will also recruit and promote volunteer opportunities from the local community, businesses, and social organizations to accomplish trail projects. The MCC will assist members in identifying potential outreach opportunities, best approaches, and promotion of events to increase volunteerism at the Host Site by using the Essential Volunteer Management Practices. The ES will improve the sustainability of the overall volunteer program.
To Apply: Go to our website to complete an online application, and email a copy of your resume and a cover letter to [email protected]. You will then be contacted with further instructions. If you have any questions, please direct those to the email above as well.
Special Benefits
Weekly living allowance of $400 (before taxes) for 24 weeks
AmeriCorps Education Award of $3,247.50
Health insurance, if eligible
Certifications in the National Incident Management System, some members will also receive MCC Chainsaw Safety Certification
Conferences such as the Maine AmeriCorps Member Conference
Networking opportunities
Maine State Park Pass
Some members may also be eligible for student loan forbearance and childcare reimbursement
A small number of Host Sites also offer housing as part of their position