---
675 Hour Environmental Steward/The Nature Conservancy
Environmental Stewards
Serve as an integral part of a conservation organization!
Want to take your background in natural resources to the next level? As an Environmental Steward (ES) you'll gain invaluable hands-on experience and confidence in the field, while networking with potential employers. Use your knowledge and expertise to tackle the needs of local organizations. Each ES role is unique, past projects have included:
Environmental Education
Volunteer Management
Environmental Data Collection
Land/Trail Management
Resources:
Environmental Steward FAQs (DOC)
---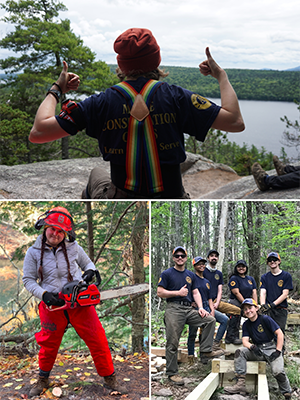 Field Teams
Do something different and discover your potential!
Looking to make a difference? Get paid to explore Maine's wilderness, coast, and mountains, whiled doing something that matters. Come gain confidence and grit serving with our Field Teams! Field Team members construct and rehabilitate sustainable trails in places like Baxter State Park, and on the Appalachian Trail, as well as land owned by local communities and land trusts. Your efforts as a Field Team member provide access to Maine's natural areas and present recreation, education, and fitness opportunities for the public. Team members gain an appreciation for their strengths and abilities, all while serving in some of Maine's most wild and beautiful places!
Resources:
Field Team FAQs (PDF)
Additional Job Details
International Applicants Allowed?

No
Work Visa Sponsoring Available

No
Job Overview
Location: Wells, ME
675 Hour Term:  June 5, 2023 – October 6, 2023
Housing: Provided
Days and Hours of Service:  40 hours per week: may include evenings and occasional weekends.
Additional Training Provided: Chainsaw Safety Training
Purpose:
The purpose of this position is to fulfill the mission of the Maine Conservation Corps (MCC), which is to accomplish conservation initiatives that inspire people and enhance communities. This is achieved by accomplishing conservation projects, creating pathways to employment, delivering environmental education, and engaging community volunteers.
The Nature Conservancy (TNC) is a global non-profit with a business unit in Maine.  Our mission is to protect the lands and waters on which all life depends.  We own and manage almost 300,000 acres in Maine, and have actives programs focused on freshwater, ocean, climate, and community resources across the state.
This AmeriCorps member position will support Burn Boss Jon Bailey and Burn Crew Leader Sam Nyes in the implementation of a collaborative grant with Maine Department of Inland Fisheries & Wildlife (MDIFW) through the U.S. Fisheries &Wildlife Service (USFWS) Partners Program entitled Southern Maine Prescribed Fire & Hazardous Fuels Reduction Landscape Partnership. This will involve various and sundry tasks associated with the preparation and coordination of tasks associated with this large effort to reduce hazardous fuels and manage wildlife habitat in Wells and Kennebunk, ME.
General Timeline:
Late summer-coordination of mowing activities, preparatory fire equipment maintenance, orientation, GIS planning and prep.
Fall burn season-participate in prescribed burns, maintain equipment, and collect GIS data.
Post burn season-reporting, maintenance, and data maintenance.
Description of Duties:
Field duties will include

Fireline preparation
Fuel reduction through mowing and hand cutting
Leadership of contracted crews
Equipment mobilization,
Maintenance and repair of tools and equipment,
Prescribed burn operations, and
Post-burn monitoring

Office duties will include

Meeting coordination and agenda preparation
Fire volunteer coordination and communications
Map creation in ArcGIS pro
GIS data maintenance in ArcGIS pro and ArcGIS online
Monitoring data coordination and maintenance
Generation of grant report components, such as monitoring updates

Participate in MCC and AmeriCorps orientations, training, events, and conferences
Assist with pre-approved and allowable fundraising activities
Engage in volunteer management activities including:

Recruiting volunteers
Promoting and leading volunteer events
Collecting and submitting Volunteer Assignment Agreements to MCC
Implementing the Essential Volunteer Management Practices and Volunteer Management Action Plan
Complete ongoing assignments and required tasks, including job readiness training, construction of member portfolios, weekly timesheets, and quarterly reports.
Participate in a Site Visit with MCC staff
Maintain regular communication with MCC, including checking email no less than weekly
Participate in mid-term and end-of-term evaluations with the Host Site Supervisor
Adhere to the MCC code of conduct, safety rules and guidelines, drug-free workplace, and other policies outlined in the MCC Handbook and AmeriCorps Member Agreement
Represent MCC and host site in a professional and supportive manner to the public and media
Essential Functions:
GIS experience/willingness to learn and innovate
GPS/iPad data collection
Familiarity with Microsoft Office suite
Good communication skills and ability to lead volunteer groups
Ability to communicate clearly and effectively
Demonstrates good judgment and professionalism
Demonstrates initiative, reliability, and flexibility
Ability to serve both independently and as part of a team
Ability to manage time effectively and produce quality results with attention to detail
Demonstrates a desire to learn, serve others, and make a difference
 Marginal Functions:
Fire training (red card/FFT 2, higher level training better)
GIS experience
Chain Saw/brush Saw certification experience (can Provide)
ATV/UTV certification experience (can Provide)
Service Conditions:
The TNC's Southern Maine Field Office is a dynamic work environment with a combination of field tasks, workshops, and office tasks. The field office consists of a Burn Boss/Program Manager, Crew Leader/Land Manager, and The Environment Steward(s). 20 to 45 active fire-trained volunteers and several state, federal, and NGO's collaborative partners. Both the Maine and New Hampshire TNC business unit staff provide support and hands-on assistance.
The projects can be fast paced making for solid positive high-quality results. Safety is a top priority. All team members strive for equality, inclusion, openness to learning and growth, integrity, and a positive work environment.
They will be required to hike uneven terrain, grasslands, and forested lands on our managed lands which range from easy to strenuous, and may be working in poor weather (rain, heat), often with biting insects. There may be some long days in the field.
Service includes being in an office environment much of the time, with their own desk and computer
Service includes the majority of time in the burn season spent outside and long days are expected
Service includes hiking on uneven terrain with tools and equipment
Service may involve travel to other locations
Service is performed independently and as part of a team
Service involves frequent communication to multiple parties
Qualifications:
High School diploma or equivalent
Must be at least 18 years old
Must be a US Citizen
Must agree to a criminal history check
All positions at State sites require a valid driver's license with a good 5-year driving record
Passion for community service and the environment
Commitment to complete the full term of service
Fire Experience
Maintenance Experience
GIS Experience
Orientation and Training Topics:
Members will participate in up to five orientation and training days, typical topics include: Intro to AmeriCorps, Prohibited Program Activities, MCC, Host Sites and You, OnCorps reporting, Portfolio Development, Professional Communication, National Incident Management Systems, Leave No Trace, Intro to Trails, Tool Safety, Use and Maintenance, Interpretive Programs. Initial orientation and training will likely include some virtual aspects in 2023.
Job readiness training, such as resume writing, job search components, appropriate workplace behaviors, and interview skills will be taught throughout the term of service.
To Apply: Go to our website to complete an online application, and email a copy of your resume and a cover letter to [email protected]. You will then be contacted with further instructions. If you have any questions, please direct those to the email above as well.
Special Benefits
Weekly living allowance of $400 (before taxes) for 18 weeks
AmeriCorps Education Award of $2,474.27
Certifications in the National Incident Management System, some members will also receive MCC Chainsaw Safety Certification
Conferences such as the Volunteer Leadership Conference
Networking opportunities
Maine State Park Pass
Some members may also be eligible for student loan forbearance and childcare reimbursement